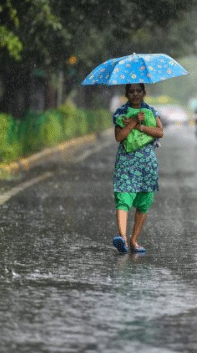 Bhubaneswar: A cyclonic circulation which lay over east central Bay of Bengal off the Myanmar-Thailand coast on Thursday is expected to move towards the Bangladesh coast within the next 24 hours and lead to formation of a low pressure area over north east bay, the Centre for Environment and Climate (CEC) of Siksha 'O' Anusandhan (SOA) here said on Thursday.
The system is likely to move in a north westerly direction towards north Odisha-West Bengal coast on September 30 or October 1, a CEC bulletin said.
Under the influence of the system, light to moderate rainfall is expected to occur over most places in Odisha from Friday afternoon till October five night. But several Odisha districts including Mayurbhanj, Balasore, Keonjhar, Deogarh, Sundargarh, Jajpur, Bhadrak, Angul, Jharsuguda, Bargarh, Sambalpur, Sonepur, Boudh and Balangir could experience heavy precipitation on September 29 and 30, the bulletin said.
Rainfall would continue over Odisha districts of Koraput, Malkangiri, Gajapati, Ganjam, Rayagada, Kandhamal, Kalahandi, Nabarangpur and Nayagarh and neighbouring Chhattisgarh on October 2 and 3. One or two places would receive heavy rainfall.
The rainfall could further increase in north Odisha region, Jharkhand and Chhattisgarh between October 3 and 5, it said.
The bulletin said this could be the last monsoon system over India and withdrawal process of the monsoon could commence after weakening of the system. Preliminary model analysis indicated that monsoon might withdraw over eastern India between October 13 and 16, it said.