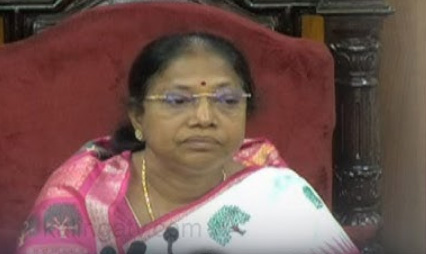 Bhubaneswar: Odisha Legislative Assembly Speaker Pramila Mallik today suspended two BJP MLAs including Opposition Chief Whip Mohan Majhi and Mukesh Mahaling from the remaining days of ongoing session for throwing daal (pulses) at Speaker's podium this evening.
The BJP members were protesting the remark of a ruling BJD MLA Arun Sahoo who made a 'mental health disorder' remark against the Leader of Opposition.
Protesting the words used by the BJD lawmaker, the opposition BJP members trooped into the Well of the House and demanded immediate expungement of the words "mental health disorder" from Shri Sahoo's statement. Speaker Shrimati Mallik said she would examine the matter.
However, the BJP members continued their protest inside the House and stalled proceedings during important discussion of Home and GA Departments. The BJP members allegedly threw polythene of dal towards the Speaker's podium as the latter did not pay attention towards their demand.
Speaking to media persons outside the House, Mohan Majhi said he has not thrown any dal towards the Speaker.
On the other hand, Shri Mahaling said that he has offered some dal to the Speaker so that she is able to listen to their demands.
"We have been demanding expunge of one remark made against our LoP. But, the Speaker was neither listening to us nor conveyed an all party meet. As the Speaker liked dal when she was serving as Women and Child Development Minister, we have offered some dal to her so that she can hear us," said the BJP MLA.
"The House was irked over their action and words and subsequently action was initiated as per the Constitutional norms. They have been suspended for the current session," said Speaker Pramila Mallik.