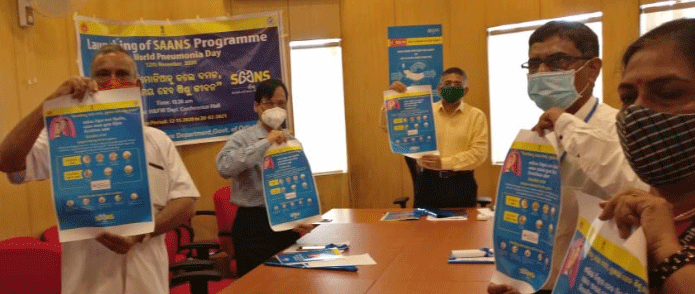 Odisha Government has launched Social Awareness and Action to Neutralize Pneumonia Successfully ( SAANS) Campaign for reducing the overall burden of childhood pneumonia in the State.
Today, on World Pneumonia Day, 12 November, 2020, the Department of Health & Family Welfare launched the SAANS Campaign.
Additional Chief Secretary, Health & Family Welfare, Pradipta Kumar Mohapatra launched the campaign.
In fact Pneumonia is one of the topmost killers of under-five children contributing to 14 Percent of under-five mortality.
In view of this, a comprehensive campaign, encompassing community and facility level activities and Mass Media activities at various levels has been launched today.
The SAANS Campaign will be spread over three and a half months, starting from 12 November, 2020 to 28 February, 2021. During the campaign, the ASHAs will visit all households having under-five children, assess all children for danger signs of pneumonia, if any.
And if traced refer them for appropriate treatment; counsel all caregivers on prevention and control measures of childhood pneumonia.
At facility level all facilities will be geared up for management of pneumonia and severe pneumonia cases.
At village level all Panchayati Raj Institution (PRI) Members will be sensitized on protection and prevention measures and at State level various Mass Media activities, such as, radio jingles, TV and Print Media advertisements will be undertaken for creating mass awareness on important of early identification and treatment of childhood pneumonia.
Shalini Pandit, Mission Director, NHM, Bijay Kumar Mohaptra, Director Health Services, Bijay Kumar Panigrahy, Director Family Welfare, Amarendra Mohanty, Director SIHF&W,  Prativa Pradhan, Joint Director Child Health,  Monica Neilson, Chief of Field Office, UNICEF, Meena Som, Health Specialist UNICEF and  Lopamudra Tripathy, C4D Specialist, UNICEF joined through virtual mode.
Participants from all the districts and medical colleges also attended the campaign launch virtually.