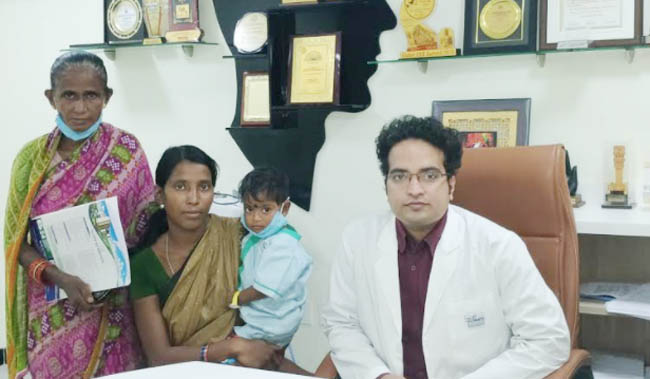 Surgeons at the SUM Ultimate Medicare yet again successfully performed a high risk procedure to remove a custard-apple seed which got stuck in the wind pipe of a 12-month-old baby suffering from anemia and pulmonary tuberculosis. 
Hemalata Yadav, the infant from Atabira in Bargarh district, was playing with custard-apple seeds on October 30 when she swallowed one which accidentally got stuck in her wind pipe triggering respiratory distress.
Worried parents of the infant rushed her to a nearby health care centre but she was referred to a bigger hospital for immediate intervention.
They visited several hospitals but she could not get medical attention anywhere for ten days before they were told to come to SUM Ultimate Medicare.
The baby was received in the hospital in a critical condition as she was found to be severely anemic and suffered from pulmonary tuberculosis. Dr. Radhamadhab Sahu, Head of Department of ENT and Skull Base Surgery, who examined the baby decided to conduct the difficult procedure after all investigations were done. But it was a challenge to put the baby under general anesthesia considering her condition.
Dr. Sahu, along with the anesthesia team led by senior consultant Dr. Dipankar Padhihari, took up the challenge to save the life of the baby and successfully removed the large seed from the wind pipe using optical forceps endoscopically. The risk of such a procedure gets increased manifold in infants as the oxygen level of infants falls very fast, Dr. Sahu said.
Dr. Sahu has conducted several such critical procedures in recent times to save lives of small children even as SUM Ultimate Medicare has evolved as a centre of excellence for conducting such procedures.