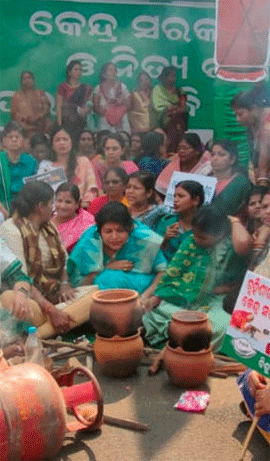 Bhubaneswar: As the election is nearing, the Governing BJD has become aggressive against the BJP-led Central Government.
The BJD has been attacking the Government of India alleging Central negligence over reduction of funds for paddy procurement, non-release of food subsidy, non-sanction of PMAY houses and many farmers' issues. Today, the ruling party hit the streets over LPG price hike of domestic LPG cylinder.
The women wing of Governing BJD has staged demonstration against LPG price hike here before the Raj Bhawan.  
BJD Leader and Bhubaneswar Mayor Sulochana Das said the price of one domestic LPG cylinder (14.2 kg cylinder) has been increased from Rs. 410 in 2014 to Rs. 1129 now.
However, the Odisha BJP leaders, instead of requesting their government at Centre to reduce the price, are creating law and order problems in the state, she alleged.
Senior BJD Lawmaker Arun Sahoo dubbed the Ujjwala Yojana as Ujuda Yojana stating the scheme has brought tears to the eyes of the mothers and sisters of Odisha and great pain and hardship for them.
Another BJD Lawmaker Soumya Ranjan Patnaik alleged that the Centre's move to hike the LPG cylinder rates was contrary to the saffron party's slogan "Sabka Saath, Sabka Vikash."
"The Central Government headed by Prime Minister Narendra Modi had made tall promises about improving the lives of common people by launching the Ujjwala Yojana. It provided LPG cylinders to the poor, but with the frequent hikes in LPG cylinders now the poor are unable to afford cooking gas in their kitchens," he said.
BJD Spokesperson Shreemayee Mishra said that the Centre was cheating the people of the country, especially the residents of Odisha by first stopping free rice to the poor and now by hiking the price of LPG cylinders.
The BJD has been supporting many of the decisions of the Centre, but it would not support the anti-people policies of the Modi Government, she said.
On the other hand, continuing its protest over alleged police excess against BJYM activists, the BJP on Friday filed complaints in different police stations across the state.
The BJP leaders and workers took out protest rallies in different places of the State including capital city today and lodged complaints in the police stations against the DGP, the Police Commissioner and the Bhubaneswar DCP