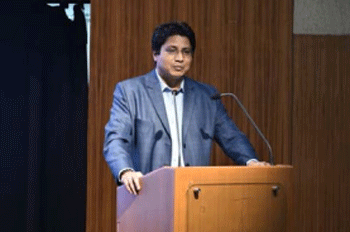 New Delhi: Pradip Kumar Das, Chairman & Managing Director (CMD), Indian Renewable Energy Development Agency Limited (IREDA), delivered
a session address at the Workshop cum Conclave on Green Hydrogen Energy on 20 October 2022 at IIT Delhi.

Shri Das highlighted the overall journey of Renewable Energy (RE) in the country, technical and commercial aspects of fundamental and new RE technologies and the significance of RE Financing in India.

CMD, IREDA underlined the advantages and running challenges being faced by the RE industry and various interventions required towards meeting India's revised Nationally Determined Contribution (NDC) targets i.e., reduction in the Emissions Intensity of its GDP by 45 percent by 2030, from 2005 level and to achieve about 50 percent cumulative electric power installed capacity from non‐fossil fuel‐based energy resources by 2030.

In his address, he also highlighted that IREDA has been maintaining its leadership position as a mother organization in Renewable Energy space for past 35 years and is continuously developing financial products to meet market requirements. The company has ended FY 2021‐22 with its best‐ ever performance till date.

He emphasized the significance of the initiatives being taken by the Government of India towards accelerating RE growth; and requested all the stakeholders in the entire RE and power industry to work together to ensure timely achievement of India's updated NDC targets.