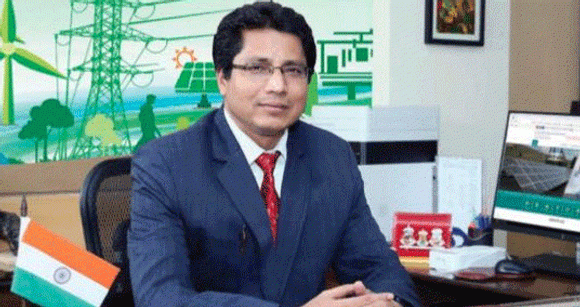 New Delhi: With one of the most dynamic and visionary Chairman & Managing Director Pradip Kumar Das at the helm, Mini Ratna CPSU, Indian Renewable Energy Development Agency (IREDA) has announced to open an Initial Public Offer (IPO) on November 21. The IPO will remain open till November 23.
IREDA CMD Shri Das said that they have fixed a price band of Rs 30-32 per share for its initial public offer (IPO).
IREDA, a Mini-Ratna CPSU under the Ministry of New and Renewable Energy (MNRE), is a systemically important non-deposit-taking non-banking finance firm (NBFCND-SI) with the status of an infrastructure finance company (IFC). This is the first IPO by a Central Government-run company, since LIC hit the market in May last year.
The IREDA has been single-handedly financing renewable energy (RE) projects for 27 years. It has a comfortable position of hand holding the RE sector for development. IREDA holds a market share of 31 per cent in financing on RE projects and its installed capacity is around 182 gigawatts (GW) of renewable energy while the target was set to enhance the RE capacity to 500 GW by 2030, Das said.
To meet the Renewable energy targets will need Rs 30 lakh crore, of which Rs 12 lakh crore will be from NBFCs like PFC, REC and IREDA. We will play an important role for building a sustainable economy and to ensure a healthy environment for our future generations, Das said.
Making all out efforts during the last 25 years, the MNRE and IREDA have converted the traditional RE (solar energy and hydro energy) to establish RE, the CMD Shri Das said.
"The capacity of IREDA has now been tried, tested and proved. We, the government, the lender and the developer with proper coordination developing the RE sector in the country," he stated.
IREDA CMD Shri Das further said now India is moving faster than any other country in the RE sector and India is now supporting other under developed or developing countries in this field through International Solar Alliance.
As of September 30, 2023, IREDA had a diversified portfolio of term loan outstanding amounting to Rs 47,514.48 crore. For FY 23, its net interest income increased to Rs 1,323.77 crore against Rs 1,128.04 crore a year ago. Net profit increased from Rs 633.53 crore in FY22 to Rs 864.63 crore in FY23.
Capital to risk-weighted asset ratio (CRAR) stood at 18.82 per cent for FY23 and for the six months ended September 30, 2023, it was 20.92 per cent.
For the six months ended September 30, 2023, IREDA's net interest income stood at Rs 785.42 crore, and profit after tax was Rs 579.32 crore. For the same period, the company sanctioned total loans amounting to Rs 4,744.5 crore.
The government has infused Rs 1,500 crore in March 2022. Through various modes of dividend exemption, we have ploughed back profit to the tune of a similar amount. We have to comply with the RBI exposure norms as well as CRAR (Capital to Risk-Weighted Assets) requirement, he informed.
Under the dynamic leadership of CMD Shri Das, IREDA is scaling up to new level of performance, senior officials said.