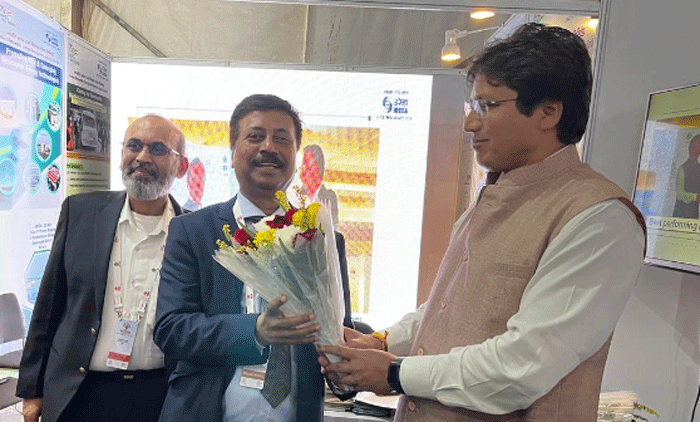 Bhubaneswar: Pradip Kumar Das, Chairman & Managing Director (CMD), Indian Renewable Energy Development Agency Limited (IREDA), addressed a gathering at a Sectoral Session on "Renewable Energy & Equipment (Green Hydrogen & Solar)" in Bhubaneswar on 2 December.
The address was a part of the Make in Odisha (MIO) Conclave 2022, the flagship investor summit of the Government of Odisha. The objective of the session was to discuss the investment opportunities for manufacturing of RE and electrical equipment in the state.

In his address, CMD, IREDA, highlighted that IREDA has been maintaining its leadership position as a mother organization in Renewable Energy space for past 35 years and is continuously developing financial products to meet market requirements. The company has ended FY 2021-22 with its best-ever performance till date.

IREDA has achieved the highest-ever loan sanctions of Rs. 23921.06 crores (an increase of 117% over FY 2020–21) and loan disbursements of Rs. 16070.82 crores (an increase of 82% over FY 2020–21). IREDA boasts of the largest loan book size of Rs. 33, 783 Cr of Renewable Energy in the country.
While achieving the historic targets, IREDA has ensured continuous improvement of human capital through highest level of employee care and satisfaction. He added, the above sanction and disbursement targets are achieved in conjunction with digitization, transparency, accountability, etc. to ensure speedy RE development in the country.
IREDA has significantly improved the "ease of doing business" in terms of faceless loan sanctions and disbursements, resulting in sanction of 7 projects on virtual platform, leading to reduction in loan sanction, documentation and disbursement cycle and increased geographical footprint in the country, added CMD, IREDA.
Speaking about abundant untapped opportunities in the State of Odisha, CMD, IREDA added that the company post opening its Branch Office in August 2021 has been instrumental in sanctioning several RE Projects, largely the small hydro projects in the State.
IREDA believes in playing a catalytic role, and is open to new project ideas, in comparison to other mainstream bankers and NBFCs in RE Space.
He further said that these kind of initiatives will strengthen the speed in achieving the target of 500 GW of Renewable Energy capacity by 2030, set by the Prime Minister Narendra Modi. The sector session was attended by Director (Technical) and other senior officers of IREDA.
The Make in Odisha Conclave' 22 being organized in Bhubaneswar from November 30 to December 04, 2022, is a unique opportunity to understand Odisha's policy and regulatory environment, and the vast existing and emerging business opportunities across sectors. It promises to take engagement to the next level with a wide range of activities and events.