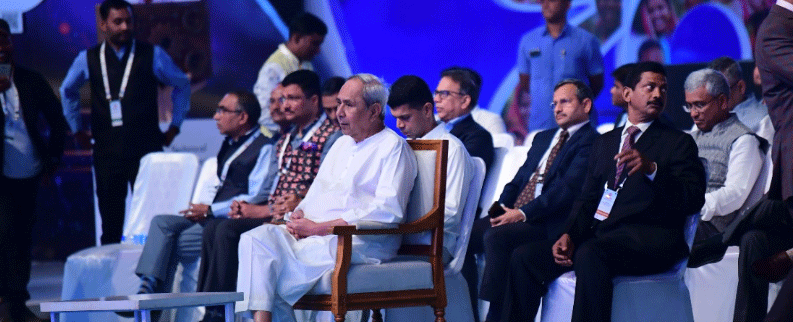 Bhubaneswar: The State Government has bagged 741 investment intents worth of Rs 10.50 lakh crores during the Make in Odisha (MIO) Conclave 2022, which came to an end here on Saturday.
Addressing at the valedictory session of the MIO conclave, Chief Minister Naveen Patnaik announced that the conclave has generated investment intents of Rs 10.50 lakh crores with potential for 10.50 lakh direct and indirect employment.
"It's heartening to see the huge response we have got especially in the post covid scenario," he said.
Mr.Patnaik urged the officials to work hard to implement these investments on the ground and take Odisha to a new era of growth.
He assured all the investors that his government will walk the extra mile for them. "We will walk the talk. It will be a win-win situation," he told the investors.
He thanked the FICCI team, country partners—Japan, Norway, and Germany for their support to make the conclave success.
"I hope that we further strengthen our relationships and create more opportunities for mutual trade, commerce, and people-to-people relationships," Patnaik said, adding, "Let the juggernaut move on."
Briefing media persons, Industries Principal Secretary Hemant Sharma said a total of 741 investment intents worth Rs 10,48,807 crore has been received during the MIO Conclave.
The total investment intents received during the third edition of the MIO is much more than what the State received in first two MIO Conclaves held in 2016 and 2018. In the earlier two Conclaves, the State had got investment proposals of only Rs 6 lakh crore. Thanks to Principal Secretary Mr.Sharma, who made the Conclave a grand success.   
Out of the total amount, highest Rs 5.49 lakh crore investment proposals have been received from minerals, metals and metal downstream sector, followed by Rs 2.38 lakh crore from power, renewable & green energy sector, Rs 1.19 lakh crore from logistic & infrastructure, Rs 76,080 crore from chemical, fertiliser & plastic sector, Rs 21,634 crore from manufacturing field and Rs 8,235 crore from tourism sector.
Similarly, investors proposals worth Rs 7,740 crore has been received from IT&ESDM sector, Rs 7249 crore from agriculture & food processing, Rs 5,306 crore from paper, woods & forest-based industries, Rs 5012 crore from cement, Rs 3935 crore from health sector, Rs 2640 crore from textile and Rs 2055 crore from aerospace & defence sector, he said.
Highest investment proposals were received from AMNS and JSW, said Mr.Sharma.  
Notably, on the first day itself, the State Government has got investment proposals worth Rs 7.26 lakh crore while on the second day, the MIO drew investment of Rs 1.70 lakh crore.