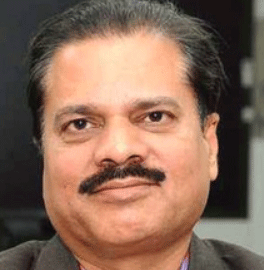 New Delhi: The India Meteorological Department (IMD) on Wednesday said that there is a possibility of the formation of a cyclone over the Bay of Bengal (BoB).
A low pressure area is likely to take shape over southeast Bay of Bengal on May 7, which may intensify into a cyclonic storm on May 9 over southeast Bay of Bengal, IMD said.
The cyclonic storm will move nearly north northeast wards towards East central Bay of Bengal till May 12 next. The low pressure area over southeast Bay of Bengal will convert into a depression around May 8, with further intensification into a cyclonic storm on May 9 and severe cyclonic storm on May 10.
However, the IMD has not yet predicted its intensity, path and impact on Odisha coast.
IMD Director General (DG) Mrutyunjay Mohapatra said that there is consensus over the formation of a low pressure and its intensification into a cyclone by May 9.
"We have not specified its path and intensity and the area over the land where it is likely to hit. Once the low pressure takes shape, we will provide detailed predictions regarding landfall and its intensity. As of now, there is no such forecast for landfall over Indian coast," said Dr.Mohapatra.
Initially, there will be squally weather and hence the fishermen should not venture into the southeast Bay of Bengal. This is a warning for the fishermen community, who are advised against venturing into the sea from May 7, he said.
The DG IMD made it clear that no alert has been issued for the Odisha coast and there is no forecast about the likely impact of the system on Odisha.
Dr.Mohapatra urged people not to panic about a possible cyclone but remain prepared to face any eventuality.
"The IMD will be providing daily updates on the development," he said, adding that the frequency of cyclone genesis is maximum in the month of May and Odisha has faced nature's fury in the past too.
The last summer cyclonic storm 'Fani' had made landfall over the Odisha coast near Puri on May 3, 2019. It had caused wide-spread devastation in coastal Odisha including Capital Bhubaneswar.