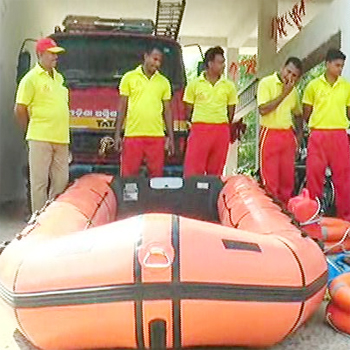 Cuttack: The Directorate of Fire Service headed by DGP Santosh Upadhyay has saved 729 precious human lives from fire, drowning, accident and other incidents during the month of May.
According to official data, the Fire Service officials have saved three human lives from fire accidents and 726 human beings from other incidents like drowning and road accidents.
The Directorate of Fire Service is working in accordance with the ' 'Every Life is Precious" principle of Chief Minister Naveen Patnaik during hazards like fire and drowning.
The officials have also saved 2385 cattle lives from fire and other incidents during last month.
During the month, 341 Fire Stations were pressed into delivery of public service like attending to fire calls, rescue of men/ animals and assistance to civil administration towards disaster management as first responder.
As many as 2231 fire calls were received during May, of which two were serious calls (involving deaths of human beings), 38 calls categorised as major, 178 as medium and 2006 were small incidents.
Besides, 7 false fire calls were also received by the fire stations (major-property loss more than Rs.1 lakh, medium- in between Rs.50,000 to Rs. 1 lakh, small — below Rs. 50,000).
All the Fire Stations across Odisha received a total of 2883 special service calls of which 2138 were rescue calls and others were for various other issues like accidents etc.
Loss of 4 human lives due to fire reported during the month. Similarly, Fire Stations have attended to 138 other incidents like drowning/ accidents etc.
Properties worth Rs. 7.02 crore (insured property Rs.2.25 crore, uninsured property Rs. 4.76 crore and others Rs.60,000) have lost due to fire in the State in the last month.
The Fire Service officials have saved properties of Rs. 40.24 crores (uninsured property Rs.20.32 crore, insured property Rs.19.90 crore and others Rs.1.50 lakh)