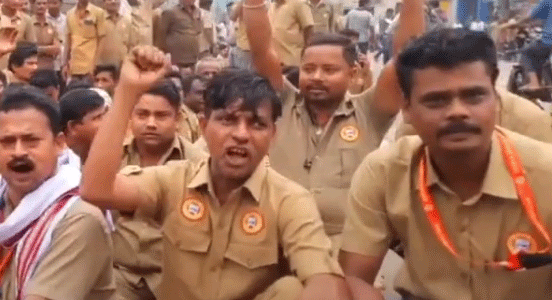 Bhubaneswar: Normal life in Odisha affected as a large number of drivers of public transport and commercial vehicles launched an indefinite "quit steering" protest on Wednesday to press for a 10-point charter of demands.
Despite the State Government's appeal, the drivers hit the streets across the State paralysing the public and commercial transportation in the state.
The vehicle drivers resorted to road blockades on NHs and major roads, demonstrations and picketing in different places across the State including capital city Bhubaneswar, Cuttack, Bargarh, Deogarh, Koraput, Dhenkanal, Jajpur, Angul and Dhenkanal.
The agitating drivers have been demanding pension after 60 years of age, death benefits, life insurance, social security, parking and toilet facility.
However, the private bus owners, truck owners and auto-rickshaw drivers, online cab drivers are not supporting the agitation.
Long-route passengers were seen stranded at the Baramunda bus stand in the capital city, Badambadi bus stand at Cuttack and the bus bays at Angul, Balasore, Puri, Berhampur, Rourkela, Sambalpur and other district headquarters since early morning.
Some of the passengers said they came out for their travel destination following assurance from the bus owners' association that there will be no disruption in private bus services. But most of the private buses are off the roads due to the strike, they said.
"I have arrived in Bhubaneswar this morning and am waiting for a bus to go to my village Betanati in Mayurbhanj district. Do not know when the bus service will resume," said Rohit Murmu.
"To put pressure on the state government over our long-pending demands, we have launched this peaceful protest. We are allowing all emergency service vehicles, school children and other people, who have an emergency, to move on the road," said Prasant Menduli, President, Odisha Driver Mahasangha.
"The State Government had assured us to form a committee and consider our demands when we were on strike last time. But, no action was taken. We will continue the strike till our demands are met," he said.
Commerce & Transport Minister Tukuni Sahu said, "We will form a high-level committee to look into the demands of the drivers. The state government has positive thinking towards their issues. We again appeal to the drivers to call off the strike as the Class-X examination is going on."  
Official sources said a meeting between the Transport Minister and the office bearers of the Driver Ekata Manch was held on Tuesday. However, it remained inconclusive. Following which, they resorted to strike.
Meanwhile, the State Government has asked all districts to prepare a contingency plan to prevent inconvenience to the public during the strike.
Cuttack-Bhubaneswar Police Commissioner Soumendra Kumar Priyadarshi said that strict action will be taken if any untoward situation is created on public roads or attempts are made to stop vehicular traffic. He has advised people to call 112, if anyone stops his/her vehicle.