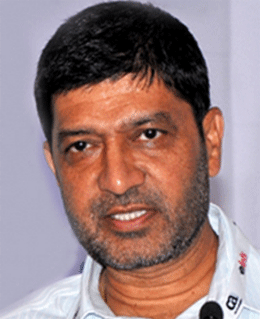 Bhubaneswar: Ashok Dalwai Chief Executive Officer, National Rainfed Area Authority (NRAA) has said that Marketing through Farm Producers Organizations (FPO)s for the surplus produce should be taken up on Mission Mode.
Mid Term Review was taken up by NRAA Chief Executive, Dr.Dalwai of the project being implemented in Nuapada District.
National Rainfed Area Authority (NRAA)-Ministry of Agriculture & Farmers Welfare-Government of India, United Nations-Food &Agriculture Organization (UN-FAO) and Government of Odisha has initiated a pilot project titled "Landscape based integrated farming systems for improved income and nutrition through convergence" in 3 villages of Komana Block of Nuapada.
The Pilot Project aims to develop suitable models for rainfed agriculture for Odisha and India and at field level by WASSAN, an NGO with technical support from NRAA and FAO.
Dr.Dalwai is an Odisha Cadre IAS(R) officer who has worked in Undivided Kalahandi District as Collector & District Magistrate in 1990s.
Dr.Dalwai also said Mobile Solar pump sets/energy carts should be taken up to increase cropping intensity and crop cycles for increasing income of farmers.
He requested field teams to focus on conservation of indigenous seeds, improving quality of farm seeds and promotion of seed banks. Livestock and fisheries related activities will play key role in increasing incomes of the farmers. Integrated farming systems are the way forward for increasing income and nutrition security in the rainfed areas.
Nearly 60 Percent of the cultivated area in Odisha is under rainfed agriculture and more than 50Percent of the farmers live in rainfed areas in the state.
Western Districts such as Nuapada, Kalahandi, Bolangir are regularly affected by droughts and witness heavy migration.
Representatives of FAO and WASSAN also participated in the meeting. Under the project, improved cultivation practices were demonstrated in 176 ac with 274 farmers in 3 villages increasing income and nutrition.
These are farmers are now linked to FPO under Odisha Millets Mission (OMM) in Komana for better marketing.
As per the request of NRAA, this FPO is also selected as procurement agency for millets under OMM by Government of Odisha. Survey showed that there are 183 small water bodies such as farm ponds, WHS, dugwells, etc.
A pilot innovative irrigation system to secure crops in rainfed areas is also planned initially in 21 Ac and later shall be further scaled up through convergence. A convergence plan on natural resource management and nutri-gardens is also under way through MGNREGA/OLM. A model livestock extension model called rearer field schools is also being piloted through technical support from FAO experts.
Mr Tomio Shichiri, Country Representative FAO said that emphasis should be given marketing through FPOs. Dr Konda Reddy, Assistant Country Representative FAO said that participatory approach undertaken in the project should be documented. The FPIC process documentation can be shared by FAO in national and international partners.
Reviewing the progress of the work, Dr Ashok Dalwai complemented the team members from NRAA, FAO and WASSAN. He said that food and nutrition security should be given priority.
A steering committee has been formed for the project with senior officials of state government.
Dr. Dalwai said that insights from the project shall be shared with government of Odisha for scaling up best integrated farming models in the rainfed areas of the state.