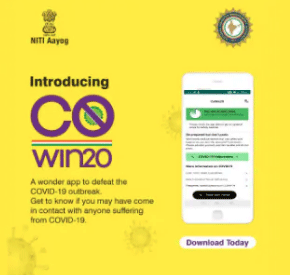 Bhubaneswar: While State Government has chalked out Vaccination Action Plan, Digital platform, CoWIN, will help monitor the entire vaccination process.
CoWIN digital platform includes a free downloadable mobile application which can help record vaccine data. One can register themselves on it if they want the vaccine.
There are five modules in CoWIN app — administrator module, registration module, vaccination module, beneficiary acknowledgement module and report module.
The registration module is for people to get registered for vaccination. It will upload bulk data on co-morbidity provided by local authorities or by surveyors.
The vaccination module will verify beneficiary details and update vaccination status while the beneficiary acknowledgement module will send SMS to beneficiaries and also generate QR-based certificates after one gets vaccinated.
The report module will prepare reports of how many vaccine sessions have been conducted, how many people have attended those, how many people have dropped out etc.
CoWIN Integration will be there with other Platform as it will be integrated with NHA for Aadhar Authentication, with Digi Lockers for Photo ID and Digital Vaccination Certificate and with other platforms, officials say.
Besides preparation of data base and creation of task forces in different levels, Department of Health is all set to make Covid prevention vaccination program a grand success.
As per the schedule, after receipt of vaccine from different sources, on priority basis more than 3.2 Lakh doctors, health workers and other Covid warriors will be immunized in first slot.
Senior citizens, pregnant women, children and other critical patients will also be immunized on priority basis. Thereafter, administration will ensure vaccination for others in phased manner.
After green signal of Union Government, State Administration has prepared a data base of persons to be immunized. For such herculean work Task Forces have been created at block, ULB, district and state level.
Doctor, staff nurse, pharmacist, ANM, LHV and other medicos likely to be engaged in vaccination work will be trained appropriately. To maintain discipline in the vaccination centers and to assist in registration work police personnel will be deployed and adequate number of volunteers from home guard, civil defence, NCC, NSS, NYK etc will be drawn.
Covid vaccination program will be taken up in line of general election preparations.
In order to avoid confusion and rush State Government has drawn planning for model vaccination sites. There will be three separate areas for Waiting, Vaccination and Observation.
The Vaccination Centers will have separate entry and exit points and persons coming for Covid vaccination are required to seat in specious waiting rooms maintaining physical distancing and other guidelines.
After verification, one by one will be taken to vaccination rooms and thereafter vaccinated people are to be kept in observation under strict vigil of medicos for time.
For smooth vaccination, personnel from different departments including Health and WCD will be engaged. Anganwadi workers and Asha Karmis will play vital role in this mass vaccination program, said a senior official.
There will be a five-Member Team at each session and 100 beneficiaries will be receiving vaccination and if there will be load beyond it deployment of additional teams will be there.