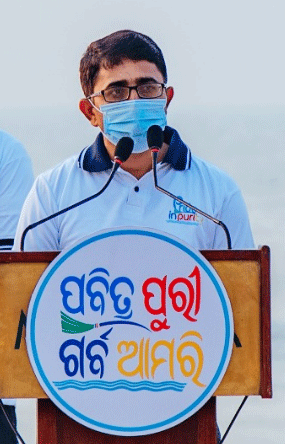 When Blawant Singh took over as Collector Puri, he made a pledge to keep Holy City Clean as the pilgrims were greeted with stinking garbage.
Entire Holy City was is ill-maintained and foul smell emanates from the rotting garbage heaps.
Be it the gates of 12th Century shrine of Lord Jagannath or the Golden Beach Coconut shells, vegetable waste, used plastic cups and plates, leftover food and packaging materials like straw and banana leaves can be found strewn all over. 
An ardent devotee of Lord Jagannath and a determined administrator decided to take up cleanliness drive.
And all out support of Chief Minister Naveen Patnaik and Secretary 5T VK Pandian to the strong-minded mandarin came as a great help.While sustained efforts of cleanliness in the Golden beach resulted in International acclaim of Blue Flag Tag for the most beautiful beach of the country, now Pride of Puri is ignited with a weeklong overdrive for cleanliness started on 1 November.
This has resulted in 30cubicmeter of Plastic Waste was collected which is mostly single-use plastic, which cannot be decomposed and ends up in the landfill, approximately 2700cubicmeter amount of garbage was lifted, 184 GVPs were cleared and 17.5 Kilometre length of Bush Cutting was done!As part of the ongoing campaign- Mo Dham Mo Garba (My Dham My Pride) – Puri's resolution for Clean Dham was displayed on 8 November 2020 in an event marking the culmination of the week-long initiative, thanks Team spirit of people led by Balwant Singh, . With the objective of bringing around all the citizens to become part of the "Mo Dham Mo Garba" campaign and also to understand and appreciate the spirit of "Mo Dham Mo Kaam", the week-long immersion programme was launched on 31October 2020, calling for the removal of legacy waste, adopting segregation of waste, pledge of purity, clearing and beautification of the garbage vulnerable spots.
The initiative is in succession of the Clean Puri Initiative Logo & Tagline Competition where citizens from Puri Town were asked to share their vision of Puri's cleanliness journey through a logo design and tagline writing.The week-long immersion programme aimed at making every denizen of Puri feel proud of their endeavours and their town that is on the path of becoming not just a recognised world class heritage city but also the cleanest one. Our people, including the tourists, play a key role in making our Dham clean and prepare enough to battle not just the current pandemic but other such times of crisis that affects people's health. Our health is directly linked with the environment, and hence, it is essential to take it together with our fight against COVID-19. 
The Immersion Programme began on 1st November with the launch of its logo – Pride for PURIty – to demarcate on this endeavour to turn Puri into the cleanest world-class heritage city and thereby help our people live a disease-free life, especially during the COVID-19 pandemic. 
Puri Municipality had begun the mass cleaning drive across Puri Town from 1 November. This was followed by launch of dedicated rath – Kaibalya – for collection of residual Mahaprasad and Puja Samagri on 4 November. For the first time in Puri, Night Sweeping was launched on 5 November to bring more cleanliness to the pilgrim town before daybreak. On the 6-7 November, citizen engagement began with the signing of Pledge for PURIty by citizens in Puri.
The people were asked to segregate their plastic waste and give it to the dedicated Swachha Savari that went for door-to-door collection.An entire campaign across all mediums – print, radio, TV and social media – took place with notable personalities coming together to encourage people to segregate their waste into four categories – dry, wet, biomedical & hazardous.
A string of events were organised by SHGs, women, children and other sections of society to honour Safai Karmis through respectful gestures like gifting roses, chocolates, fruits and Tulsi plants. It's now time for our Swachha Sathis and Supervisors to take a pledge to support this change.
The pledge vans will come together to form a half crescent moon in which all Swachha Sathis, Supervisors and officials from Puri Municipality will stand and take a pledge to facilitate this waste management movement. In the end Collector, requested people to follow the waste management protocols, failing to do it will call for enforcement measures. He also suggested people to keep fighting Covid-19 by following all the protocols.MLA, Puri addressed the event.
He appreciated Puri Municipality and Puri District Administration for coming up with this initiative and implementing it across Puri Town to change the way citizens, devotees & tourists take care of their waste generation, segregation & proper disposal.
An oath-taking ceremony was conducted where the MLA, Puri extended their commitment to the initiative and Puri's cleanliness beyond the week-long programme as a mark of support. Minister, Housing and Urban Development Pratap Jena graced the occasion.
Mr Jena welcomed the initiative undertaken by Puri Municipality and Puri District Administration and appreciated the participation of the society that made it a success and proved that Puri will always be every Odia's matter of pride.