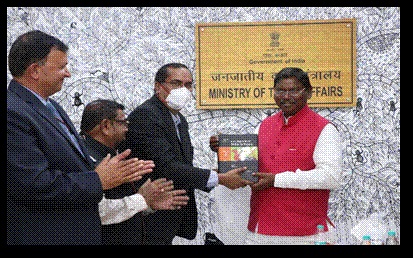 New Delhi: Anil Kumar Jha, Secretary of Ministry of Tribal Affairs has appreciated efforts of Tribal Research Institute of Odisha in chalking out Plan for preserving tribal heritage.
Odisha Scheduled Caste & Scheduled Tribe Research Institute(SCSTRTI) is in the forefront for such activities, said a senior official.
Mr.Jha was speaking in presence of Union Minister Tribal Affairs, Arjun Munda in the MOU signing ceremony held at NTRI.
MOU was signed between National Tribal Research Institute, New Delhi and Bhartiya Adim Janjati Seva Sangathan (BAJSS) for developing BAJSS as resource center of NTRI.
S S Toliya Director TRI Uttrakhand signed the MoU on behalf of NTRI and Nayan Chandra Hembram, President of Bharatiya Adim Janajati Seva Sangathan (BAJSS) signed on behalf of Institute.
Mr.Jha said that the project has been undertaken under the guidance of Tribal Affairs Minister, Arjun Munda had advised to develop the unique heritage as the resource centre of upcoming national Tribal Research Institute (NTRI).
Mr.Jha lauded the efforts of TRI Odisha and TRI Uttarakhand who have chalked out a plan to preserve this unique heritage.
S N Tripathi, Director General, IIPA, said that IIT Kanpur is developing National Digital Library and when the books are digitized, these can be added to the vast resource available in national digital library.
Navaljit Kapoor, Joint Secretary, Ministry of Tribal Affairs (MoTA) briefed about the details of activities, which would be undertaken in the restoration project and the time line to complete the project, said sources.
A total amount of Rs.150 Lakhs has been sanctioned by the Ministry for preservation and digitization of Rare Books in BAJSS Library & to develop it in to an E-Library and for revamping of the tribal Museum, digitization of artefacts and making interactive kiosks so as to preserve the unique cultural heritage.
Rajendra Kumar, Director TRI; SS Tolia, Director, TRI Uttarakhand, AB Ota, Director, SCSTRTI Odisha and Nupur Tiwary from NTRI, Meenakshi from UNDP and other key functionaries of BAJSS were present on the occasion.
Nayan Chandra Hembram, President of BAJSS thanked the Minister for visiting the site with the team of officers and undertaking the preservation of books and restoration of museum, which were otherwise neglected. He also briefed about pan India activities of BAJSS and its role in tribal policies and issues since independence.