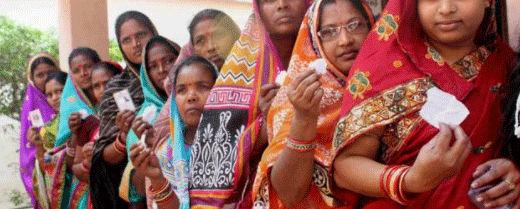 Bhubaneswar: Around 79 per cent of 51.31 lakh voters have exercised their franchise in the fourth phase of the Panchayat election held yesterday in the State.
As per data released by the State Election Commission (SEC) on Wednesday, Subarnapur district recorded the maximum voter turnout of 86.51 per cent. Bargarh stands at second position with 84.87 per cent and Nabarangpur at third with 83.3 per cent. Ganjam district continued to have the lowest voter turnout of 65.2 per cent.
Similarly, Rayagada district has recorded 82.35% polling, Gajapati–82.17%, Koraput (82.8%), Bolangir (82.2%), Cuttack (80.64%), Dhenkanal (80.59%), Kalahandi (80.53%) and Nuapada (80.34).
The voting took place at 17,089 polling booths in 1,254 Panchayats of 64 blocks in 27 districts on Tuesday.
Re-polling at 49 booths in 10 districts has been completed smoothly today. The election was disrupted due to violence and other reasons during the first and second phase of polling.
Informing about the process of counting of votes, Sahu said the counting of votes will be done Zilla Parishad Constituency-wise. The votes polled in one ZP Constituency shall be counted in one big hall. The counting of votes will commence at 8 AM on all three days February 26, 27 and 28.
The counting will be held as per the numerical order of the Zilla Parishad Zones. One table will be set up for each GP coming under the Zilla Parishad Zone. Another table will be set up for the Election Officer and for the persons who will assist him or her. The tables for the Panchayats will be arranged as per alphabet order.
One counting supervisor, two counting assistants and a Group 'D' employee will be deployed in each table.
Counting for all wards under one Panchayat will be done on the table meant for the said Gram Panchayat. The results will be declared after ward-wise counting, said Sahu.
Each candidate is allowed to appoint one counting agent in each table. Since it is decided that counting of votes will be taken up GP-wise, those contesting for the office of Ward Member, Sarpanch and Panchayat Samiti Member are allowed to appoint one person as their counting agent for each post.
However, those contesting to the office of Zilla Parishad Member can appoint as many Counting Agents as the number of GPs in that particular Zilla Parishad Constituency.
Adequate security arrangements shall be made outside the Counting Hall as well as outside the Counting Centre.