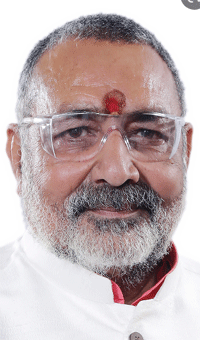 New Delhi: Lauding the efforts made by the Odisha Government for the development and empowerment of Panchayati Raj Institutions (PRIs), Union Panchayati Raj Minister Giriraj Singh has said that powers have been given to PRIs in 21 out of 29 subjects.
The State of Odisha, in compliance and consonance with the 73rd Constitutional amendment to empower the rural local self-government, has enacted and adopted its State Panchayati Raj Act to confer constitutional status to the Panchayats in the State.
The State has devolved power to its Panchayati Raj Institutions (PRIs) in 21 subjects of the total 29 subjects enshrined in the eleventh schedule of the Constitution (Article 243G) for the planning of economic development and social justice schemes, said Mr.Singh in a written reply to the Parliament recently.
The State is regularly holding elections to the Panchayats and 50% reservation has been allowed for the women in PRIs and so also reservation for Scheduled Castes and Scheduled Tribes in proportion to their population.
The State has been constituting the State Finance Commissions to, inter alia, devolve financial resources to the PRIs. The State has, however, not notified the Rules in respect of Panchayats (Extension to the Scheduled Areas) Act, 1996 (PESA), he said.
The Ministry of Panchayati Raj implements a Centrally Sponsored Scheme of Rashtriya Gram Swaraj Abhiyan (RGSA) with the major objective of training and capacity building of the elected representatives of the Panchayati Raj Institutions and their functionaries to build their governance capabilities.
Under the above scheme, he said, 1,67,212 elected representatives of the Panchayati Raj Institutions and their functionaries in Odisha have been trained since the implementation of the scheme in 2018-19.
The State has constituted various Standing Committees and holds Gram Sabhas regularly in the Panchayats. All 6,798 Gram Panchayats have their own Gram Panchayat Bhawan which have also been computerized.
The State has adopted eGramSwaraj Accounting Application developed by the Ministry of Panchayati Raj for use by PRIs for planning, budgeting, accounting, monitoring, and asset management.
As per the e-GramSwaraj portal, in Odisha, all 6,798 GPs (100%) of Odisha prepared and uploaded Gram Panchayat Development Plan for the year 2021-22, and 6,766 GPs (99.52%) prepared and uploaded the Gram Panchayat Development Plan for 2022-23. Almost 80% of the Gram Panchayats make on-line payments and 97% have closed their yearly account books for 2021-22, said the Union Minister.
Similarly, online audits of accounts of almost 100% of the Gram Panchayats have been completed for the audit period 2020-21 in pursuance of the recommendations of the Fifteenth Finance Commission.
Mr.Singh said the Panchayats in Odisha actively participate in the National Panchayat Awards and the Panchayats have won 64 awards since the inception of the awards in 2016-17.
The Gram Panchayats in the States have, however, not prepared the Citizen Charter based on the model Citizen Charter suggested by the Ministry, he added.