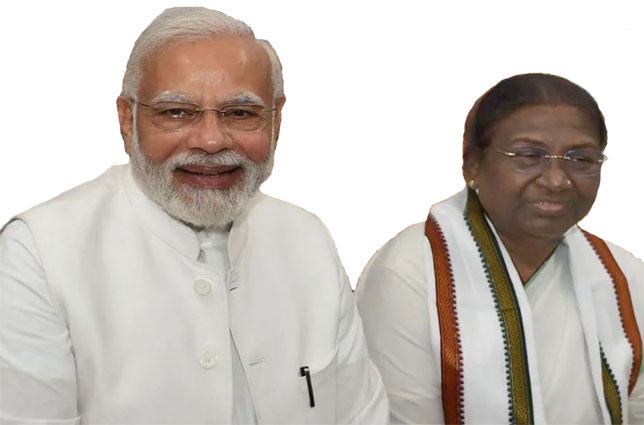 Bhubaneswar: India has witnessed at least 14 Presidential elections in the past, but not the one in which Odisha's daughter Droupadi Murmu has been elected to Raisina Hills. While the Presidential elections were mostly confined among the elected MPs and MLAs, this is for the first time when people in villages also become part of the process. The people in large numbers celebrated Murmu's election victory and it had its political impact giving a rich dividend to Prime Minister Narendra Modi, whose 'Master Stroke' left many surprised including his strong critics.
The politicians like TMC Supremo and West Bengal Chief Minister Mamata Banerjee had to respect Shrimati Murmu's candidature while BJD President and Odisha Chief Minister Naveen Patnaik announced his party's support to NDA candidate even before anyone seeking it. Shrimati Murmu will take the oath of office as the President on Monday. She is the first from the tribal community to become the first citizen of India. Thanks Mr.Modi for his selection though he has rich political ambitions from the Presidential elections.
The impact of Shrimati Murmu's selection was visible in the nook and corner of the State of Odisha, particularly in the tribal hinterland of Mayurbhanj, Sundargarh, Keonjhar, neighboring Jharkhand and West Bengal. Even its impact has spread to other states also. But the immediate effect was felt in Odisha, Jharkhand and West Bengal. This is because Droupadi is daughter of Odisha and she was Governor of Jharkhand. Since a good number of Santhal community also live in West Bengal, it was obvious that her becoming President will certainly encourage the Bengali adivasis.
The Prime Minister's acceptance among the tribals has certainly increased, if the words of Chakara Hansda, a Santhali of Uperbeda village is to be believed. Hansda lives in the same village where Droupadi was born. "It is Modi who has given status to adivasis. No other party or leader in the past had ever given such honour to a tribal as Mr.Modi has done. We are indebted to him," Mr.Majhi said, which is considered as the voice of 22.8 percent of Odisha's population and 9 percent of people in India. He said the tribal community since ages survives on its self pride though they are poor and poverty stricken. Many innocent and gullible tribal women also do not know who Mr.Modi is. They, however, know Indira Gandhi. "Yes Indira Maa was a protector of tribals. After her, none has come to the rescue of tribals even as her son has become Prime Minister. Mr.Modi is someone who follows Indira," said Nitika Hansda of Rairangpur. "He gave us respect", said Jamuna, a 70 years old Santhal lady.
Mr.Modi's BJP is known to the people of tribal districts of Odisha and their feeling towards Mr.Modi has been further cemented after making Murmu as the President of India. However, general impression on Chief Minister Naveen Patnaik remained unchanged. "Naveen Babu has done his duty by supporting Murmu keeping in view the sentiments of Odia people. Shrimati Murmu's elevation may add to Mr.Modi's image, but it will not reduce people's liking for Naveen," said a political analyst working in the tribal districts.
There should be no doubt that Mr.Modi's enhanced image will boost the electoral prospects of BJP in the tribal hinterland and also in the entire state. This is because, 4.5 crore people of Odisha are elated over Modi's selection and giving due importance to an Odia which remained neglected since seven-and-half-a decades. This action has also reestablished the BJP leader's claim that Mr.Modi has a soft corner for Odisha for which so many people from the state have been installed in top posts of Indian bureaucracy as well as in the Union Council of Ministers. Apart from Dharmendra Pradhan, two others – Ashwini Vaishnaw and Bishweswar Tudu, another tribal have got berths in the Union Ministry.
Many Odia officers including Girish Chandra Murmu of Mayurbhanj have also become Comptroller & Auditor General (CAG), while Shaktikanta Das is now Reserve Bank of India Governor. A number of talented persons from the state who remained ignored for decades, also got Padma awards. All these added to Mr.Modi's popularity in the state even though there is bitterness towards the Union Government over the escalating price rise of essential commodities. The GST on "Mudhi", a popular food among the people of Mayurbhanj tribals, has however, could not affect Mr.Modi's popularity in the face of Shrimati Murmu's elevation.
In fact, Droupadi Murmu, a tribal face as India's President, is expected to work wonderfully for the BJP in the 2024 general elections for Lok Sabha and Odisha Legislative Assembly. This may also impact many Lok Sabha and Assembly seats in other states.
While Odisha houses 22.8 percent tribals, the Scheduled Tribes constitute 14.8 per cent and 5.7 per cent of the population in Gujarat and Himachal Pradesh respectively, states that will go to polls this year. Of the nine states that go to polls next year, four are in the northeast where tribals play a decisive role — Nagaland (86.5 per cent), Meghalaya (86.1 per cent) and Tripura (31.8 per cent) in February and Mizoram (94.4 per cent) in November.
Tribals also constitute seven per cent of the population in Karnataka that will go to polls in May next year. Of the four states that will go to polls in November, tribals constitute 30.6 per cent of the population in Chhattisgarh, 21.1 per cent in Madhya Pradesh, 13.5 per cent in Rajasthan and 9 per cent in Telangana. Jharkhand, which will go to polls on November 2024, constitutes 26 per cent tribal population.
Maharashtra, which is slated to go to polls in October 2024, has over nine per cent tribal population while Haryana will go to polls along with Maharashtra.
Anyway, the Presidential elections and NDA's candidate selection has certainly boosted the image of Mr.Modi across the country and also in Odisha. The coming days, particularly, the 2024 general elections will determine whether the saffron party could benefit from Mr.Modi's enhanced image. The next Assembly elections will also prove whether Narendra Modi has eaten into Naveen Patnaik's popularity bases in some parts of Odisha, both including tribal and non-tribal belts.