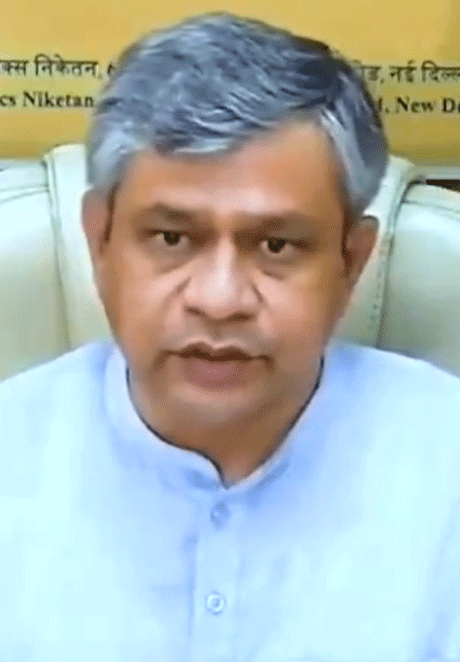 Bhubaneswar: The tragic train accident in Odisha's Balasore district happened due to change in electronic interlocking, Railway Minister Ashwini Vaishnaw on Sunday who is there at the accident spot and supervising the restoration work said.
Shri Vaishnaw said, "The Commissioner Railway Safety has completed his inquiry and will submit the report soon. Let the investigation report come but we have identified the cause of the incident and the people responsible for it. It happened due to changes in electronic interlocking."
Who is responsible for the change in electronic interlocking will be known during investigation, he said.
However, he made it clear that non-fitment of Kavach or anti-collision device has nothing to do with the accident.
As per the instruction of Prime Minister Narendra Modi, who inspected the accident site on Saturday, restoration work is going on full swing and the restoration will be completed by Wednesday morning, the Minister informed.
In a statement, South Eastern Railway (SER) said all 21 coaches which capsized and derailed have been grounded. Now the site is being cleared from bogie/wheel sets and other components.
Three goods wagons and locomotive grounding work is going on. Track linking and OHE work is going on parallel, it said.
Nearly 300 people died and over 900 were left injured after Chennai-bound Coromandel Express and Howrah bound SMVP-Howrah Superfast Express were involved in a major accident near the Bahanaga Bazar railway station in Odisha's Balasore district on Friday evening.
Meanwhile, Union Health Minister Mansukh V Mandaviya arrived in Odisha and visited AIIMS Bhubaneswar. He will also visited SCB Medical College in Cuttack to take stock of the medical assistance being provided to the victims of the train accident.
As many as 100 bodies of passengers who were killed in the tragic train accident in Odisha's Balasore district have been brought to AIIMS Bhubaneswar this morning.
The bodies were brought in 50 ambulances from Balsore and stored in mortuary of the AIIMS, an official said.
The State Government had decided to bring about 160 dead bodies to Bhubaneswar and those will be preserved in mortuaries of different government and private hospitals.
Train communication has been snapped to Bhadrak and Balasore due to the accident. So, the family members can visit Bhubaneswar smoothly to find out bodies of loved ones, Chief Secretary Pradeep Jena said.
"The unidentified bodies will be preserved for 42 hours. If no one will claim the bodies, we can dispose of those as per medical procedures," Shri Jena stated.
According to official sources, about 55 bodies have been identified and those were handed over to the family members after autopsy.