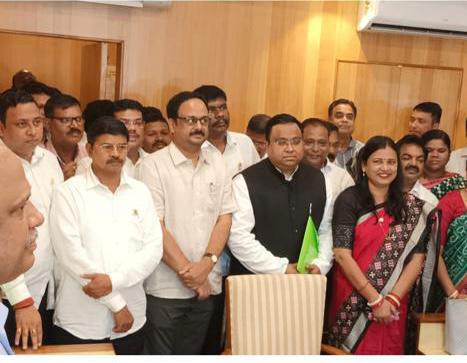 Bhubaneswar: The four nominees of Governing Biju Janata Dal (BJD) on Tuesday filed their nomination papers for the election and by-poll to Rajya Sabha (RS) scheduled for June 10 and 13, respectively.
BJD Spokesperson Sulata Deo, Media Advisor to Government Manas Mangaraj and Present RS member Dr Sasmit Patra have filed their nominations for the full-term RS seats while recently joined tribal leader Niranjan Bishi submitted his papers for the RS by-poll.
Sulata Deo is a woman face in the party. She had started her career as Sarpanch and became Jajpur Zilla Parishad President. Deo also worked in the Social Welfare Board. She had vast experience. So, she has been nominated, said senior BJD leader and Minister Arun Sahoo.
"This gives a message to the women that those who have dedicated their life for social service, he/she will be selected for such a crucial position," he said.
Similarly, Dr Patra has already proved himself as a good Parliamentarian in the Upper House. So, he has been re-nominated by the party, Sahoo stated.
Manas Mangaraj has started his career as journalist and he is also having vast political experience, said the BJD leader.
Besides, Niranjan, who is a strong tribal leader, has also been selected for the RS seat, he added.
Three seats are having fill term while another seat is having four-year term.
The poll for full term seats is being held as the tenure of three Rajya Sabha members from Odisha – N Bhaskar Rao, Prasanna Acharya and Sasmit Patra will end on July 1.
Out of the three, the BJD Supremo has renominated Patra considering his loyalty for the party and his performance in the Upper House. Moreover, he was elected to RS in a by-poll held following the resignation of BJD leader Pratap Deb.
The by-poll for another seat will be held as Subash Singh had resigned from the seat in April after he was elected as Cuttack Mayor.
The BJD is set to win all the four RS seats with a strength of 113 in an Assembly of 147. The BJP and Congress with 22 and 9 seats in the Assembly do not have the numbers to win a seat. So, the opposition parties are also not filing any candidate for the election.