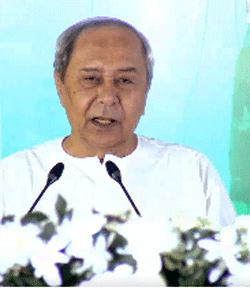 Puri: Governing Biju Janata Dal (BJD), which has been in power since 2000, is eying to serve the people of Odisha for 100 years. This was indicated from BJD Supremo and Chief Minister Naveen Patnaik's address to BJD workers on party' 25th Foundation Day celebrated here on Monday.
The ruling party has celebrated its silver jubilee Foundation Day here at Talabania ground in a massive way. Thousands of BJD leaders, functionaries and workers have attended the meeting.
Addressing the workers, the BJD President said that the Biju Janata Dal will continue to serve the people of Odisha for the next 100 years.
"My sincere request to mothers and sisters to come forward and take responsibility. With the blessings of our mothers, BJD will be able to serve the people of Odisha for 100 years and not just 25 or 50 years. Conch symbol will continue to be a victory for the pride of Odia," the Chief Minister said.
Beginning his speech with chanting Jai Jagannath, Patnaik said, today, BJD is celebrating 25 years of service to the people of Odisha. "I am grateful to the four and a half crore people of Odisha for giving us the opportunity to serve them for 25 years. BJD is always indebted to the people of Odisha," he said
"In Parliament and various meetings, leaders of other parties always told me that BJD is the most successful regional party ever. BJD has been working for many years in the service of the people based on the faith of the people," he said.
If we consider what is the reason behind BJD's continuous victory in the State, then some specific aspects or reasons will emerge.
On this occasion, Patnaik gave four mantras to BJD workers. First – the main duty of a regional party is to work on one agenda, to serve the people of the state. And, the BJD will never depart from the agenda.
"Our primary duty is –to work for our state and its people, its interest, development, glory, language and culture. BJD has been working for the interest of Odisha," the CM said.
He said the second one is – Biju Babu's ideology. "I have always said that Biju Babu was not a leader, he was a phenomenon and he was completely futuristic – way ahead of his times. And every drop of his blood was filled with the prosperity of Odisha and the pride of Odisha," Shri Patnaik said.
The third one is clean and transparent governance. BJD's vested interest is the development of Odisha, improvement of the people of Odisha. The ruling party does not have a second vested interest.
He said the fourth reason is women empowerment. Since 2000, when the people of Odisha have blessed BJD, the party has been giving importance to the empowerment of women.
"It is our firm belief that the development of women will take Odisha forward. That is why Mission Shakti today has become a people's movement towards women empowerment," said the BJD Big Boss.
He further said, if women will be empowered, families will be strong. If women are strong, the State will be strong. If women are strong, that country will be strong. If not, there will be no other.
Stating development of all categories of people in society is important for the BJD, Naveen said, "Let him be our tribal brother and sister, be a dalit brother and sister, or be Christian/Muslim brothers and sisters. Odisha will prosper if everyone prospers."
And, the BJD has always worked for the development of every village, every city and every region spread from Malkangiri to Mayurbhanj and from Bargarh to Puri.
"It is our duty to eliminate inclusive growth and regional imbalance. BJD stands for the entire Odisha. Not just one group or one region or one class," he added.
The BJD is working in a professional manner to resolve the problems and issues of Odisha. Whether it is floods or cyclones, Odisha got praise all over the world for its disaster management.
A day was there when Odisha was depending on other states for food security. Now, the State provides rice to other States. Look at our infrastructure and good governance – a lot of investment is coming to us – children will get jobs…. the state will witness immense development.
For his Government every life is precious, the CM said, "That's why testing for treatment was given free of cost during the Covid epidemic. Odisha supplied oxygen to other States."
Stating that BSKY, like a revolutionary scheme, was implemented in the State, he said, "Our commitment is – every life is precious. We are working on that basis. Everyone is praising our government and our governance model abroad."
"It's a professionally run Government. Which runs on the principles of 5T. It's a Government sensitive to people's aspirations and needs, which has initiatives like Mo Sarkar to get citizen feedback," he further stated.
He said that workers are the soul of BJD, adding, "You are giving strength to the BJD. You are fighting the opposition at the grassroot level and have been able to convey the message of our party to the people. That's why this party has become a source of people's trust."
In a strong message to the party workers, Naveen said BJD has never depended on one or two people and will never do so in the future. It is a social movement. A movement to carry forward the hopes, beliefs and values of the people of Odisha, he told the BJD workers.
"Every house should participate in this movement. Help build the Odisha of our dreams," he appealed.
He appealed to all those who have faith in the development of Odisha, want to serve Odisha, come in large numbers, join the Biju Janata Dal. Be it professionals, social workers, artists, sports persons, farmers, whoever they are, in any field, should join the BJD.
He termed BJD as the own party of Odisha and said, "Because, the national party will have their agenda on national politics and Odisha is not in their focus. However, the BJD has no vested interests apart from the progress of Odisha.