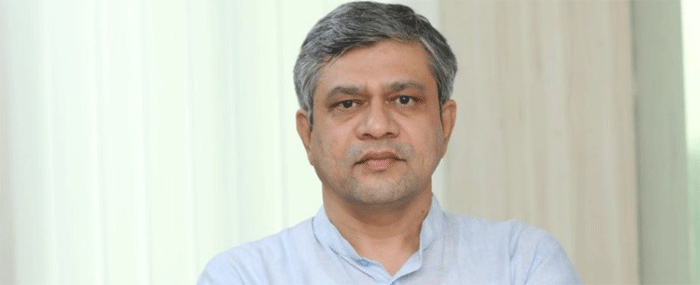 Bhubaneswar: Bureaucrat-Entrepreneur turned Politician Ashwini Vaishnaw, a Rajya Sabha MP from Odisha has taken oath as a Cabinet Minister.
Mr.Vaishnaw was given an important portfolio like Railways, Communications, and Electronics & Information Technology. His inclusion in the Cabinet has raised hopes among the people of Odisha as Railways portfolio was never given to any State leader in the Cabinet Rank.
Earlier Bhakta Charan Das and Kanhu Charan Lenka were MoS Railways around 20 years ago. Both the Ministires held by Mr.Vaishnaw coincides with the aspirations of the State, which is far behind other states.
Rajasthan's Jodhpur born 51-year-old BJP leader Mr.Vaishnaw, had sprung another surprise after two years when he was inducted to Narendra Modi's Ministry as a Cabinet Minister on Wednesday.

Barely two years ago in June, 2019 Mr.Vaishnaw had surprised all of Odisha's political circle when he was elected to the Upper House of the Parliament as a BJP candidate despite the saffron party lacking the required number to send a member to Rajya Sabha.
A suave and former Odisha cadre IAS officer of 1994 batch, got the support of ruling BJD President and Chief Minister Naveen Patnaik despite being in the rival camp months after the 2019 General Elections. It is another factor that Patnaik was criticized for supporting a BJP candidate in the Rajya Sabha elections.

Allegations were made that the BJD supremo succumbed to Narendra Modi-Amit Shah's pressure while supporting Mr.Vaishnaw. He was inducted into the saffron party barely some days ahead of the Rajya Sabha elections.
Mr.Vaishnaw entered into direct politics on June 22, 2019 and got elected to the RS barely six days later on June 28 that year. And exactly two years hence, he is a Cabinet Minister in the NDA government even as veteran saffron leaders are struggling to get a berth in the Ministry. His batch-mate and Lok Sabha MP from Bhubaneswar, Aparajita Sarangi, who won the 2019 elections after defeating the BJD candidate and former Mumbai Police Commissioner Arup Patnaik, was among the front runners in the race for the ministry. She had also quit the Civil Service to join BJP on November 27, 2018.
However, Mr.Vaishnaw outsmarted all including BJP's Bargarh MP Suresh Pujari from Western region of Odisha. As five of the BJP's eight Lok Sabha MPs were elected from western region of the state, it was expected that Pujari, who started his political career in the saffron camp since student days, would get a chance.
Mr.Vaishnaw's induction has, however, surprised one and all in the Odisha politics. The political circle here believe that Mr.Vaishnaw was taken into the Ministry for the reason that Modi-Shah combine does not want to further antagonize Naveen Patnaik because the BJP may require BJD's help after 2024 general elections. The strong BJP leaders like Aparajita Sarangi, party's Vice-President Baijayant Panda and also Suresh Pujari are known critics of Naveen Patnaik and his party. On the contrary, Mr.Vaishnaw has not yet opened his mouth against BJD, His induction in the ministry may keep Naveen Patnaik happy.
During his stint as an IAS officer, Mr.Vaishnaw worked as the District Magistrate of Balasore and Cuttack districts. His bureaucratic acumen, in fact, came to the fore when the super cyclone hit Odisha in 1999 killing at least 10,000 people. As the collector of the coastal Balasore district, Mr.Vaishnaw collected information on the cyclone from a US Navy website and sent reports to the chief secretary at regular intervals. Then, IMD's forecast was comparatively not advanced and use of the internet too was confined to very few people in the state like Odisha. His information helped the state government to take advanced measures in order to save lives.
Mr.Vaishnaw worked in Odisha till 2003, before being appointed as deputy secretary in the office of former Prime Minister A B Vajpayee. During his brief stint in the PMO, the officer created the concept of public-private-partnership model for infrastructure projects as the government on its own was not able to arrange funds for major works. He was later appointed as Vajpayee's private secretary after the NDA lost the election in 2004. He became deputy chairman of Mormugao Port Trust in 2006 and worked there for two years.
After realizing that the bureaucracy cannot fulfill his aspiration to grow more, Mr.Vaishnaw, a product of IIT, Kanpur in Electronics and Communication Engineering, quit government service in 2008 and went to Wharton University of Pennsylvania in USA to pursue MBA.
On his return, he joined GE Transportation as Managing Director and later shifted to Siemens as the Vice President – Locomotives & Head Urban Infrastructure Strategy. He, however, quit the corporate sector and set up his own Three Tee Auto Logistics Private Limited and Vee Gee Auto Components Private Limited, both automotive components manufacturing units in Gujarat.
In April this year, Mr.Vaishnaw was nominated as a member of the Press Council of India, for three years.
BJP sources said that Mr.Vaishnaw, being a former District Magistrate of the politically sensitive Cuttack district, has started strengthening his base with an intention of contesting from the Cuttack Lok Sabha seat, which was once represented by former Odisha Chief Minister J B Patnaik. The Cuttack seat has been held by veteran BJD leader Bhartuhari Mahatab since 1998.