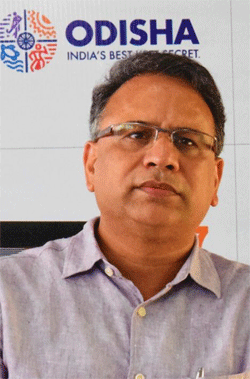 Bhubaneswar: Development Expenditure of the State has increased more than four times in 2022-23 (BE), from its level in 2011-12, Principal Secretary, Finance, Vishal Dev said in his observation on Economic Survey Report 2022-23.
Shri Dev said that Development expenditure of the State is hiked with a view to achieving sustainable and inclusive growth and development.
Developmental Spending is the largest component of total expenditure by the State and will continue to be so in 2022-23 with a share of 72.86 per cent. It stood at Rs 1,45,727.29 crores in 2022-23 BE, growing 21.06 per cent over 2021-22 RE.
Development Expenditure can be classified under three heads: developmental (which includes social sector and economic sectors), non-developmental, and grants assigned to local bodies and program-related investments (PRIs).
With a focus on development and growth of the economy, developmental expenditure has the highest share of revenue expenditures. Developmental expenditure stood at Rs 95,693.04 crores in 2022.23 BE, accounting for 65.67 per cent of revenue expenditure.
Social sector accounts for the majority share of developmental expenditure and spent 62.26 per cent of it in 2022-23 BE.
Non-developmental expenditure accounted for 34.33 per cent. Sector wise, education (16 per cent), rural development (9.8 per cent), water supply & sanitation (5.2 per cent) and medical & public health (6.5 per cent) receive the highest allocation out of total revenue expenditures.
Stating that the Government of Odisha is known for its prudent fiscal management, Shri Dev said, Odisha has been fully compliant with the FRBM act 2005 right since its enactment.
It is among the handful of states that have posted revenue surplus for several years during this period, he said.
The Principal Secretary Finance further said that the State Government continuously strives to enhance fiscal sustainability and improve budget performance by strengthening medium-term fiscal framework and improving budgetary transparency.
"With the objective of further improving budget credibility, the State has introduced 'Strategic Budget making process' in preparation of the budget for the ensuing years," he pointed out.
Similarly, debt-GSDP ratio is being maintained below 25 percent, the statutory benchmark. The State has taken various fiscal risk management measures to address the risks arising out of termination of GST compensation to States, volatile revenues from mining, decline in Odisha's share in tax devolution, state's contingent liabilities in power sector and public private partnerships especially infrastructure and the frequent natural disasters.