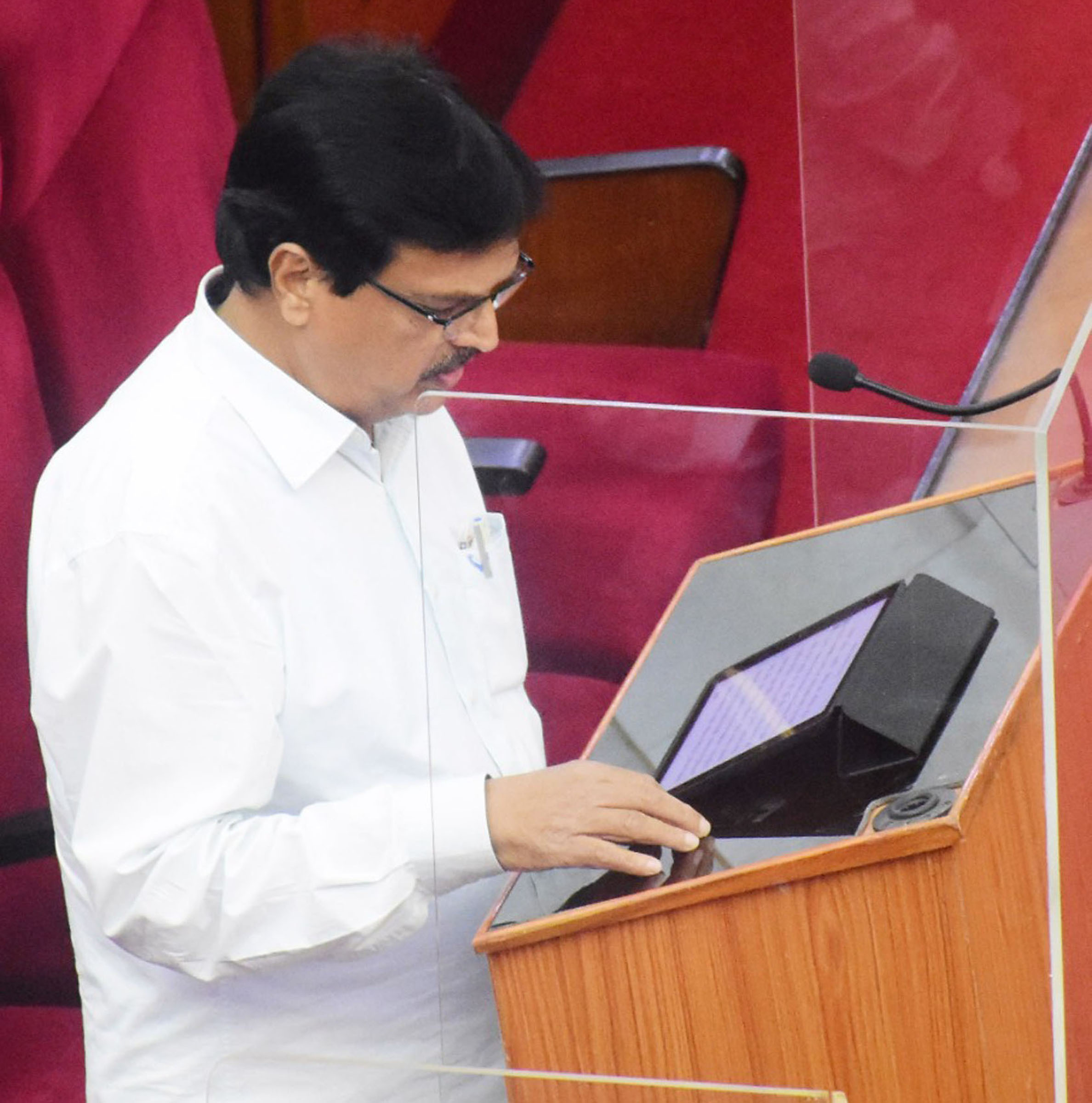 Bhubaneswar: Finance Minister Niranjan Puari on Tuesday presented the Budget in State Assembly for the year 2022-23 with a total outlay of Rs 2 lakh Crore, which is the highest ever allocation in the history of Odisha.
Keeping in view the requirement of funds for expenditure on payment of salary, pension, interest and other on-going scheme & programmes, the Finance Minister has proposed a sum of Rs 1,06,498 crore in the Vote on Account for seeking approval of this august House to defray expenses during the first four months of the financial year (April to July).
The total Budget size is Rs 30,000 crore more than the Annual Budget of last fiscal 2021-22.
Total Administrative expenditure is estimated at Rs 89,620 crore in 2022-23 including Rs 29,248 crore for salaries, Rs 18,221 crore for pension, Rs 8,467 crore for interest payment and Rs 5,856 crore for maintenance of capital assets.
Total Programme expenditure outlay for the financial year 2022-23 will be Rs 1,10,000 crore. This includes an outlay of Rs 1,00,000 crore for the Government sector and Rs 10,000 crore for the Public Sector Undertakings (PSUs) and other extra budgetary resources. The proposed programme budget size for 2022-23 is 33 percent higher than that of 2021-22, said Pujari.
The outlay for Disaster Response Funds will be Rs 3,210 crore. Transfers from State to the Local Bodies will have an outlay of Rs 7,170 crore. Thus, the Budget Estimates for 2022-23 envisage an expenditure of Rs 2,00,000 crore.
The capital outlay in 2022-23 is Rs 40,011 crore, which is about 5.6 per cent of GSDP. This is a 56 percent jump over current year's allocation, he said.
Additionally, he said, loans and advances, grants for creation of capital assets and other expenditure for capital formation together account for more than Rs 51,799 crore, which is about 7.2 percent of GSDP.
The Revenue Receipt of the Financial Year 2022-23 has been worked out at Rs 1,63,967 crore and the Revenue Expenditure has been estimated at Rs 1,44,349 crore.
The estimated revenue surplus is of the order of Rs 19,618 crore, which would be 2.7 percent of GSDP. The estimated fiscal deficit of Rs 21,588 crore would amount to 3 percent of GSDP, said Pujari.
"Keeping in view various needs and aspirations of the people, our popular Government under the leadership of Chief Minister is committed to social and economic upliftment of the poor and downtrodden section of the society," said the Finance Minister.
There is provision of Rs 12,241 crore for overall health spending of the State Government which is 6.1 percent of the total size of the Budget during 2022-23.
The Biju Swasthya Kalyan Yojana (BSKY) has been a path breaking programme of State Government to provide universal health coverage with special emphasis on health protection of vulnerable families and women.
The scheme extends cashless health care to about 96 lakh families. An amount Rs 1,864 crore has been provided under the scheme in the Budget.
"We are laying much emphasis on creation and expansion of health care infrastructure across the State, so that delivery of health care services can be made easily accessible to the people across all regions. There is provision of an amount of Rs 2,335 crore under Mukhya Mantri Swasthya Seva Mission and Rs 312 crore under the scheme Human Resources in Health and Medical Education," he further said.
Provision of Rs 2,000 crore has been made for different activities under the overarching Mission Shakti programme during 2022-23.
Pujari said Rs 26,492 crore has been provided under the education sector during 2022-23, which include Rs 521 crore under Mo School Abhiyan, Rs 439 crore for Smart Class Rooms in selected 100 schools of excellence, Rs 1,109 crore of GIA to Non-Government High Schools, Rs 420 crore for Odisha Adarsha Vidyalaya, Rs 1,283 crore of GIA to Non-Government Colleges, Rs 3,552 crore under Samagra Sikshya, Rs 165 crore for Infrastructure Development of Universities and Colleges, Rs 258 crore for Strengthening of Higher Education in Odisha under the World Bank project, and Rs 182 crore under Rashtriya Uchchatar Shiksha Abhiyan (RUSA).
There is provision of Rs 20,344 crore for different schemes in Agriculture and Allied Sector during 2022-23. This includes Rs 1,874 crore of direct benefit transfers under KALIA Scheme, Rs 300 crore of interest free loan for fertiliser and seed, Rs 688 crore under Crop Production Management, Rs 907 crore of Interest Subvention, to Farmers, Rs 600 crore of Premium Subsidy under PM Fasal Bima Yojana and Rs 8,523 crore of total outlays for different schemes under Irrigation sector.
Total allocation of Rs 1,635 crore is proposed for 2022-23 (BE) for the industry sector for setting up world class infrastructure and incentivise the industries, MSME and Start-ups, which is about 37 percent increase over previous year's allocation.