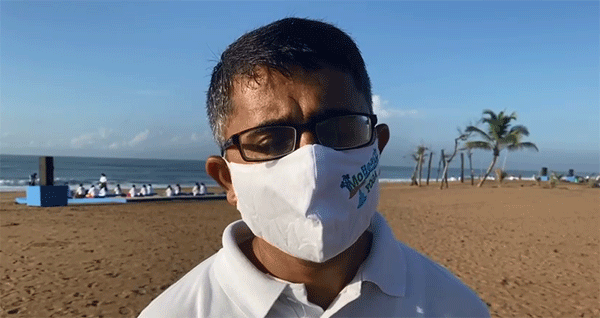 With Balwant Singh, District Collector Puri taking lead in promoting public health care efforts in COVID-19 Pandemic, Golden Beach of Puri is buzzing with a novel initiative of a beach based health care program-Mo Beach Yoga. 
After the success of Mo Beach campaign and the Blue Flag eco label accorded to the Golden Beach, Puri, Mr.Singh has presented a 'Health Funda' for promoting Public Health and Environment Education in a novel way, while ensuring the new norms of safety for COVID-19. Innovative Mandarin, Mr. Singh has taken this novel step to run a Pilot Project of the Directorate of AYUSH, Department of Health & Family Welfare, Government of Odisha which is being organized in collaboration with Beach Management Committee of Puri District Administration at the Puri Beach on October 17-18, 2020 at 5:30 AM. 
Yoga, forms of self-healing techniques, practiced in India from ages, is a great tool to help improve respiratory health and immunity. Useful in allaying fears and anxiety, Yoga plays a significant role in the psycho-social care and rehabilitation and has been helpful during the pandemic for people in quarantine and isolation.
  The Yogasanas, Pranayam, meditation & relaxation practices are known to help modulate physiological responses to stress. On top of it, practicing Yoga amid nature – with the Panchatatva (Earth, Water, Air, Fire, Sky) – play the most pivotal role in the overall functioning of our mind and body. . Mo Beach Yoga is a first of its kind beach campaign that is aimed at promoting healthy lifestyle habits and promoting Sustainable Development Goals in the most natural way while leveraging public participation for fostering wellbeing tourism. It started with 200 participants, all COVID recovered person spread across in 10 selected locations of the beach.
All COVID Guidelines are maintained through the program. Each location had 20 participants and 1 instructor along with 1 on-ground trainer to help in improving the postures. The instructors have been trained and oriented by Gopabandhu Ayurveda Mahavidyalaya, Puri for this special purpose. The program is organized on a pilot basis to learn from the experience of recovered people who are invited to this program from all walks of life. It is an initiative to promote efficacy of Yoga which can be a useful aid in facilitating early recovery of COVID – 19. 
The pilot project would also set the benchmark for resilient and safety methods to be adopted for on-ground implementation while making judicious use of traditional therapies and local sustainable solutions. The participants will be provided with basic support infrastructure and amenities like drinking water, organized platforms etc. 
This Yoga on the Beach is conducted in a well-organized ambience providing a very special experience of yoga with the sound of the waves and perfecting your poses to a breathtaking panoramic view of the sea early in the morning – the ideal time to recharge your mental and physical energies. 
As one among the eight beaches of India to have been accorded the 'Blue Flag' eco label, Puri's Golden Beach, identified under the Integrated Coastal Zone Management Project (ICZMP), implemented the activities and facilities enlisted in the Extraordinary Gazette Notification issued by the Centre that ensures four important criteria -water quality, environmental management, environmental education and safety, early this year. 
This qualified the beach to preserve its pristine marine environment & fauna & flora while making it more accessible to the public, including amenities for children.