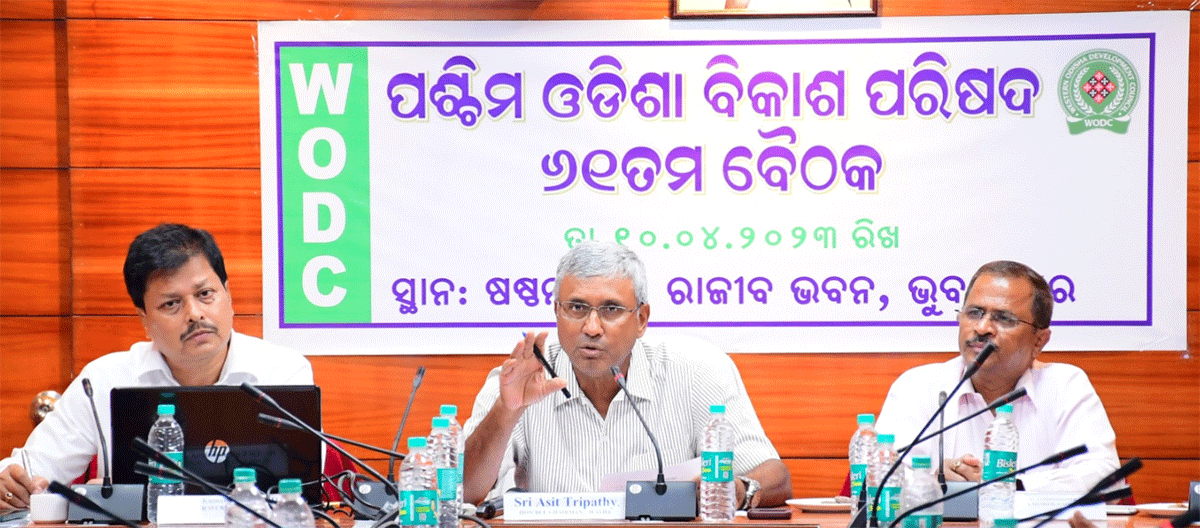 Bhubaneswar: The Western Odisha Development Council (WODC) has approved 566 projects recommended by MPs, MLAs and others amounting to Rs.54.81 crore during its meeting held on Monday.
The meeting was held under the Chairmanship of WODC Chairman Asit Tripathy. Shri Trpathy is also the Principal Advisor to the Chief Minister.
Among others, MLA, Deogarh Subash Chandra Panigrahi, MLA, Lanjigarh, Pradip Kumar Dishari, MLA, Bargarh Debesh Acharya, MLA, Khariar Adhiraj Mohan Panigrahi attended the meet and raised various issues related to implementation of WODC projects.
Welcoming all the members, Shri Tripathy apprised the Council regarding enhancement of grant in aid (GIA) from Rs.200 crore to Rs.325 Crore by the Government in the 2023 -24 State Budget and expressed his gratitude to Chief Minister Naveen Patnaik for the same.
It was appreciated by all the Members regarding the steps taken by WODC for completion of incomplete Community Centers and Kalyan Mandaps for which Rs125 crore has been earmarked.
The Chairman of WODC emphasized on various measures taken for overall transformation and transparency regarding the implementation of Council funded projects, utilization of projects for public use, construction of big felt need visible projects like auditoriums, livelihood projects including tourism related activities, which are sustainable with local ownership.
Proposals received for completion of 1147 numbers of WODC funded Community Centers/Kalyan Mandaps to the tune of Rs.64.24 crore, engagement of 4 more Technical Personnel to different districts, functioning of Social Media cell were vividly deliberated and were approved in the Council.
The MLAs expressed their gratitude to the Chief Minister for enhancement of allocation. WODC Adviser and all 9 Expert Members also put forth the issues of their respective districts.
He also called upon all the members to work in a team spirit. CEO Ajit Kumar Mishra outlined the agenda for discussion.
RDC of Northern Division, Suresh Chandra Dalai, RDC of Southern Division T Apang Ao were also present in the meeting.