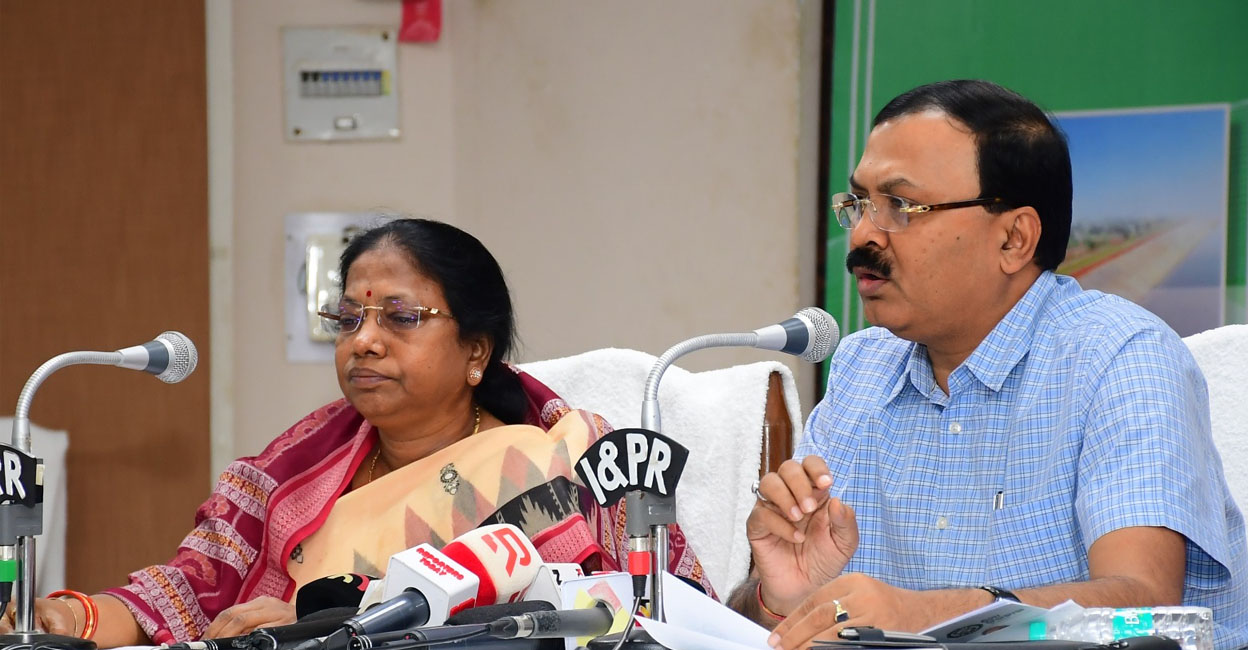 Bhubaneswar:In a significant step taken under 5T Initiative, virtual courts have been started in all the Tahasils of the State and 11,183 cases have been disposed of after hearing through virtual platforms.
This was informed by Revenue and Disaster Management Minister Pramila Mallik on Tuesday after the Chief Minister Naveen Patnaik reviewed the important activities of the Revenue & DM Department in the last four years.
Additional Chief Secretary Revenue & Disaster Management and Special Relief Commissioner, Satyabrata Sahu presented implementation of 5T Charter in the Revenue & Disaster Management Sector and other details in the Media Meet.
Shrimati Mallik stated that as per the manifesto before the 2019 election, all promises have been fulfilled. In Vasundhara, RoR is issued in the name of both wife & husband, wife being the first tenant. concession of 1% Stamp duty is given for women in property registration.
After implementation of 5T, the Department provides 34 services in online mode. Various people-friendly initiatives in Revenue Administration have been taken up, she said.
Many technological interventions have been initiated to reduce physical interface between citizens and Government offices. All Registration services are completely online. Single point payment of all kinds of fees in cashless mode through the Treasury portal has been facilitated, she said.
Certified copies of documents are issued online while Smart Surveillance System will be introduced for more transparency, the Minister informed.
Shrimati Mallik said land acquisition for national highway, railways & irrigation network has been fast-tracked. Existing Right to Fair Compensation and Transparency in Land Acquisition, Rehabilitation and Resettlement Act will be amended to streamline land acquisition without compromising the interests of the displaced families, she said.
To spur industrial activities, a policy has been put in place to either remit or obviate stamp duty & registration fees, when land is registered in favour of MSME, IT or ITES units. To sustain ecology, approximately 35,000 acres of land have been reserved for compensatory afforestation, she pointed out.
Since 2019, 3.9 lakh and 55,000 RoRs have been corrected & sent to citizens either through speed post or Rajaswa Rath within seven days and one day respectively.
All the Tahasils have been instructed to hold regular camp court in each Tahasil preferably 2-3 days a week. About 34 lakh resident & 24 lakh income certificates have been delivered on the basis of self-declaration after introduction of 5T charter.
Department is expediting Hi-Tech Survey for speedy & accurate land record services. The Hi-Tech Survey has been completed in Deogarh district and it is being expedited in Subarnapur & Sundargarh district, said Additional Chief Secretary (ACS) Satyabrata Sahu.
Revenue Department is also a facilitator of developmental projects. 10,036 schools, 2449 5T High schools and 160 colleges have been provided RoR after updation. Adequate land has been provided to institutes of national importance like IIT, IIM, IISER, NISER, VSSUT and NLU. Similarly, land has been provided to AIIMS, SCB Extension, Tata Memorial Cancer Hospital and Bagchi Karunashraya Palliative Care etc., he said.
On disaster management, he said, alert siren towers have been installed at 122 locations along the coastline for warning dissemination and SMS alerts to citizens.
Similarly, 16,442 disaster-resilient houses have been constructed under Odisha Disaster Recovery Project (ODRP) & with state funding in Ganjam, Khorda and Puri districts.
During the last 3 years Rs. 387.16 crore ex-gratia has been disbursed to 9,816 families affected in various disasters, the ACS said.
Sahu further said Rs 33.81 crore has been provided for the development of Bagapatia under Rajnagar block, where 571 displaced families of Satabhaya (Rajnagar) have been relocated & rehabilitated due to submergence of their villages under the sea.
UN Agencies have appreciated massive evacuation of vulnerable people during cyclones and cyclone man-management with zero casualties. For excellence in Disaster Management, the prestigious award "Subhas Chandra Bose Apada Prabhandan" 2023 given by Government of India, he informed.
While 20 ODRAF units have been strengthened with state-of-the-art equipment and building, 32,633 community volunteers have been trained in search & rescue and first aid to assist the community during disasters.
Community-led disaster management plans have been prepared in 10,000 villages and disaster management has been included in the school curriculum, he added.