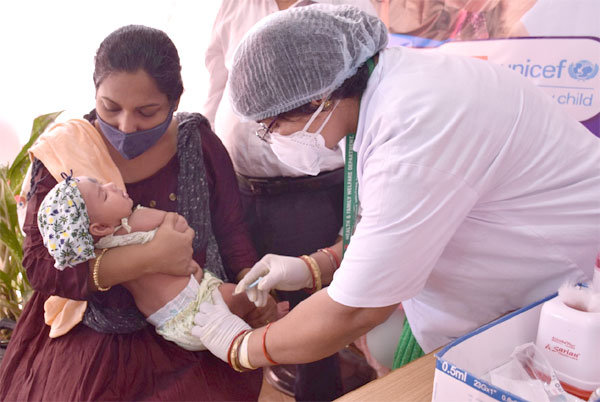 Bhubaneswar: To protect children from pneumonia and reduce child deaths, the State Government on Wednesday launched Pneumococcal Conjugate Vaccine (PCV).
From today onwards, PCV doses will be given to children under Routine Immunization Programme. It will benefit nearly 8 lakh young children annually and will reduce the risk of illness and death due to severe pneumonia. 
Each child will require three doses of the vaccine – the first dose at 6 weeks of age, the second at 14 weeks and a booster dose at 9 months of age in order to get full protection from pneumonia which is one of the leading causes of deaths among children below 5.
Speaking at the launch, Health Minister Naba Kishore Das  said, "Odisha has always given priority for providing quality health services for children to rapidly reduce both infant and under-5 morbidity & mortality."
"Immunization is one of the key interventions to reduce the infant morbidity & mortality. PCV vaccine in the State under Routine Immunization Programme, will further protect our children from diseases like pneumonia and meningitis," Das said.
He also praised the District Administrations and healthcare workers for their relentless service during Covid-19 pandemic and Odisha is doing best in Covid vaccination, the Minister stated.
Even during this Covid-19 pandemic other health services like, routine immunization, maternal and child health services are continuing due to the effort of healthcare workers, he further said.
Additional Chief Secretary, Health & Family Welfare Department Pradipta Kumar Mohapatra said immunization programme is one of the largest public health programme in the country and is one of the most cost effective health investments.
State has achieved more than 85 per cent full immunization coverage because of sincere efforts of healthcare personnel even during Covid-19 pandemic, he said.
After addition of PCV vaccine, the State will provide vaccine for 12 vaccine preventable diseases to protect 8 lakhs of children in the State every year, the ACS said.
Steps like cold chain assessment, training IEC material development have been taken up for success of the introduction of PCV Vaccine, he added
Mission Director, National Health Mission (NHM) Shalini Pandit said pneumococcal pneumonia is a major threat for child survival and it accounts for 18 per cent of all severe pneumonia cases and 33 per cent of all pneumonia deaths in India.
Children under 5 years of age and especially those under two years age are the most at risk for developing and dying from pneumonia, she said.
Under NHM, the State is implementing the Childhood Pneumonia Management programme (SAANS) and the Integrated Action Plan for prevention of Pneumonia & diarrhea (IAPPD) guidelines in all the districts focusing on HWCs, she said.
"Our health workforce is well trained and equipped for PCV vaccine introduction in RI programme and hope that State will carry out the vaccination smoothly with an objective to reduce IMR and Under-5 morbidity & mortality in the State," the Director further said.
The vaccine will be given to children as part of the Routine Immunization schedule. The first two doses at 6 weeks and 14 weeks will be combined with Oral Polio vaccine, Rota vaccine, Pentavalent, FPV. For the booster dose, this vaccine will be given to the child at 9 months along with measles, Vitamin A and JE.
This vaccine will prevent deaths due to pneumonia and meningitis caused by bacteria known as Streptococcus Pneumoniae that accounts for nearly 16 per cent of all deaths of children below 5.
It will also help in preventing 36 per cent cases of severe pneumonia and reduce use of antibiotics for treatment thereby decreasing the risk of the bacteria becoming resistant to antibiotics.
Director of Family Welfare Dr. Bijaya Kumar Panigrahy, said pneumonia is one of the leading causes of death in under five children and it contributes to 15 per cent under 5 mortality.
Pneumococcal pneumonia is the most common cause of severe pneumonia and a significant cause of morbidity & mortality in the under five children. Introduction of PCV in the Routine Immunization Programme will definitely prevent these pneumococcal diseases and deaths due to Pneumonia, Panigrahy said.
UNICEF Odisha, Chief of Field Office Monika O. Nielsen said the pneumococcal vaccine introduction into routine immunization will help further the state's commitment to reduce the under-five mortality.  With this valuable vaccine even the children in the farthermost tribal regions are protected from pneumococcal diseases.
UNICEF is committed in this initiative to support the state, like all initiatives for the survival and wellbeing of children, So that they survive and thrive to their fullest potential, she added.