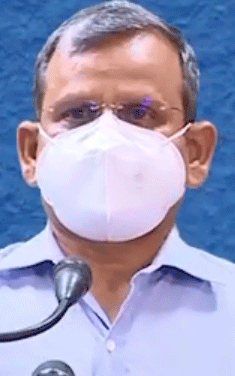 Bhubaneswar: As the State continues to witness around 3,000 Covid cases daily and high fatalities, Odisha Government on Wednesday extended partial lockdown restrictions till July 16.
Briefing media persons through virtual mode, Chief Secretary SC Mahapatra said partial lockdown will remain in force in the State till July 16 as some districts still record a high number of cases.
The State has been divided into two groups. In Category A, there are 20 districts where the positivity rate is 5 per cent or less, while 10 districts in coastal regions have been placed in Category B, he said.
The Category A districts are Sundergarh, Jharsuguda, Bargarh, Sambalpur, Devgarh, Kalahandi, Balangir, Nuapada, Subarnapur, Ganjam, Gajapati, Kandhamal, Boud, Koraput, Nabarangpur, Malkangiri, Rayagada, Dhenkanal, Keonjhar and Angul.
The districts where the positivity rate is over 5 per cent are Khordha, Puri, Nayagarh, Cuttack, Kendrapada, Jagatsinghpur, Jajpur, Baleshwar, Bhadrak and Mayurbhanj districts.
In Category-A districts, all shops excluding spa, beauty parlours and malls will be allowed to operate from 6 AM to 6 PM with strict adherence of Covid protocols, Mahapatra said.
He said there will be no weekend shutdown in the Category-A districts while it will remain in force in the remaining 10 districts of Category B.
The State Government has allowed bus transport in these 20 districts but under strict adherence to Covid protocols. Buses are allowed to pick up passengers up to seating capacity only. Taxis and autos can carry a maximum of 2 persons apart from drivers, the Chief Secretary stated.
Similarly, small hair salons are allowed to operate in these 20 districts. Outdoor & indoor film shooting can resume while daily markets and weekly haats have also been permitted in the Category-A districts.
Night curfew will continue all across the State. In Category B district, shops have been allowed to remain open from 6AM to 2 PM. The shop owners will have to ensure strict implementation of the Covid norms, he said.
Out-door film shooting has been allowed in the 10 districts. No public transportation will be allowed in these districts, Mahapatra further informed.
Stating the State Government wants to go for the Unlock process in a phased manner, the Chief Secretary sought cooperation from people to control further surge in the Covid-19 cases. He appealed to all people of the State to strictly follow Covid guidelines— maintain social distance, wear masks and wash hands in regular intervals.