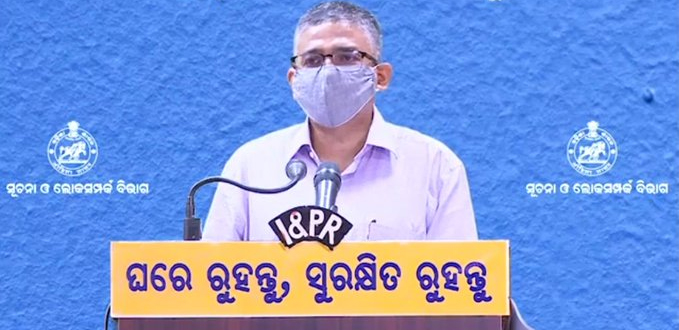 Bhubaneswar: Odisha Government has decided to vaccinate people in the age group of 18 to 44, for Covid-19 in 5 Municipal Corporations and Headquarters of 6 districts on priority basis.
Additional Chief Secretary, Health & Family Welfare, Pradipta Kumar Mohapatra Sunday informed that the vaccination of this age group will be prioritized in Bhubaneswar, Sambalpur, Berhampur, Rourkela, and Cuttack municipal corporations and the District Headquarters of Puri, Khurda, Bargarh, Kalahandi, Nabrangpur, and Koraput.
So far, 100% frontline workers, and 98% healthcare workers have got the Covid jabs in Odisha. Total 45% of the population in the age group of 45 and above have been vaccinated, said Mr.Mohapatra.
"With a vaccine wastage of -4%, our vaccinators have achieved a remarkable feat of inoculating an additional 2.80 lakh beneficiaries in Odisha," he added.
Odisha has a target to procure 3.82 crore vaccines for which the global tender process has started. The State has the infrastructure to vaccinate the entire population in three months, provided the vaccines are available, said Mr.Mohapatra.
"The process was postponed to June 4 because of cyclone Yaas. Also, some of the bidders expressed an inability to travel because of the restrictions. Apart from this, we are expecting wider participation," he added.
The second wave of Covid-19 pandemic peaked in Odisha on May 22 with 12,852 cases. Today, the State has recorded 9,541 new cases. There has been a drop in positivity rate from the second week of May when it was 22%. Today, the positivity rate of the State is 14%, Additional Chief Secretary, Health and Family Welfare Mr.Mohapatra said.
"India today recorded 1.65 lakh positive cases. On May 6, the second wave had peaked in India with 4.14 lakh cases which is more than 4 times the peak which was seen last year," Mr.Mohapatra added.
On September 16, 2020 India recorded around 97,000 cases of Covid-19 which was the peak during the first wave of the pandemic. Right from December 2019, till May 2021, India has seen the worst of Covid-19 with the prevalence of almost all types of strains of this virus, he added.
Mr.Mohapatra said that a maximum 60 percent of the Covid cases in Odisha are from 9 districts – Khurda, Mayurbhanj, Puri, Jajpur, Balasore, Cuttack, Angul, Bargarh, and Sundergarh. The cases in Chhattisgarh and Jharkhand are reducing. But the daily Covid cases in Andhra Pradesh and West Bengal still pose a risk to Odisha, he added.
Today, 86% of active cases in Odisha are in Home Isolation. The occupancy of General Beds has dropped from 52% to 46% and that of the Critical Care beds from 82% to 72% in the State. "We are adding up another 368 ICU beds, and 70 HDU beds very soon."
Odisha today is self-sufficient in terms of drugs for Covid treatment and medical oxygen supply. "Our requirement is 67 metric tonnes of oxygen per day for hospitals which are being met adequately. Besides, medical oxygen from Odisha is being supplied to 18 States and so far 25,000 tonnes of LMO have been transported out of Odisha," he added.
There have been 25 confirmed cases of Black Fungus or Mucormycosis in Odisha to date. Out of them, three have died over the past few days, Mohapatra informed.
Mohapatra said the deaths of these patients afflicted with the deadly Black Fungus were due to other reasons.
"Our experts have examined these fatalities. The deaths of these 3 patients were due to heart attack, brain hemorrhage, and sepsis, and not due to mucormycosis," said Mohapatra.
Black fungus, for sure is a matter of serious concern. In other States, thousands are getting affected by this fungus. But in Odisha, the prevalence of Black Fungus is under control. Out of 25 cases, three have died, so there are 22 persons suffering from mucormycosis at present, he added.
"We have urged the Centre to supply the injection required for the treatment of Mucormycosis to Odisha. The doses that we are getting are being distributed and we expect the situation to further improve during the coming weeks," said Mohapatra.