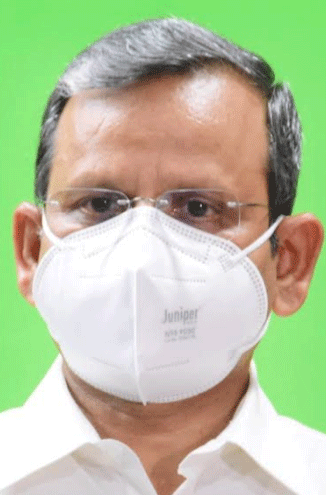 Bhubaneswar: Odisha Government Sunday announced further extension of the lockdown till 5 AM of 17 June along with the on-going weekend shutdowns across the state. However there will be some relaxation in 3 districts, officials say.
Chief Secretary S C Mohapatra announced here. He said the second phase of the lockdown was scheduled to be completed at 5 AM of June 1. It has been further extended till June 17, he said adding that the first phase of lockdown was imposed May 5 till May 19 and later till June 1. Now it is extended for another 16 days, he said.
Along with the lockdown, the weekend shutdown will also continue till 5 AM on Mondays.
"The lockdown is primarily aimed at restricting movement of people and not goods. All restrictions and exemption given by in the to previous lockdowns will be implemented in the third phase also," Mohapatra said.
This apart, the Chief Secretary said that the people across the state are allowed four hour duration from & AM to 11 AM for shopping in their nearby markets from Mondays to Fridays during the lockdown. This will continue.
"However, for three districts like Nuapada, Gajapati and Sundergarh, the relaxation period will be from 7 Am till 1 PM from Mondays to Fridays keeping in view the decline in cases in these places. This relaxation may be withdrawn if there is any sign of rise in cases," Mr.Mohapatra said.
He said as per the decision, all businesses except barber shops, parlours and malls are allowed to operate with strict Covid guidelines in the three districts. Earlier, people were allowed to avail only essentials during 7 am and 11 am.
The Chief Secretary said the shopping relaxation many be extended to other districts considering the changing corona situation in those areas.
He however said that the restrictions like ban on mass feasts during marriages, funerals continue to remain banned. A specific number of 25 people are allowed to attend marriage and other events with adherence of the COVID-19 protocol while the number of participants in funeral events is 20, Mr.Mohapatra said.
During the lockdown, both inter-state and intra-state passenger bus operation will remain suspended. Taxis (including auto rickshaws and cycle rickshaws) and service of service aggregators will not operate while jatra, opera and open air theatre shall not be allowed to operate. All saloon, barber shops, spa, beauty parlous shall remain prohibited, the order said.