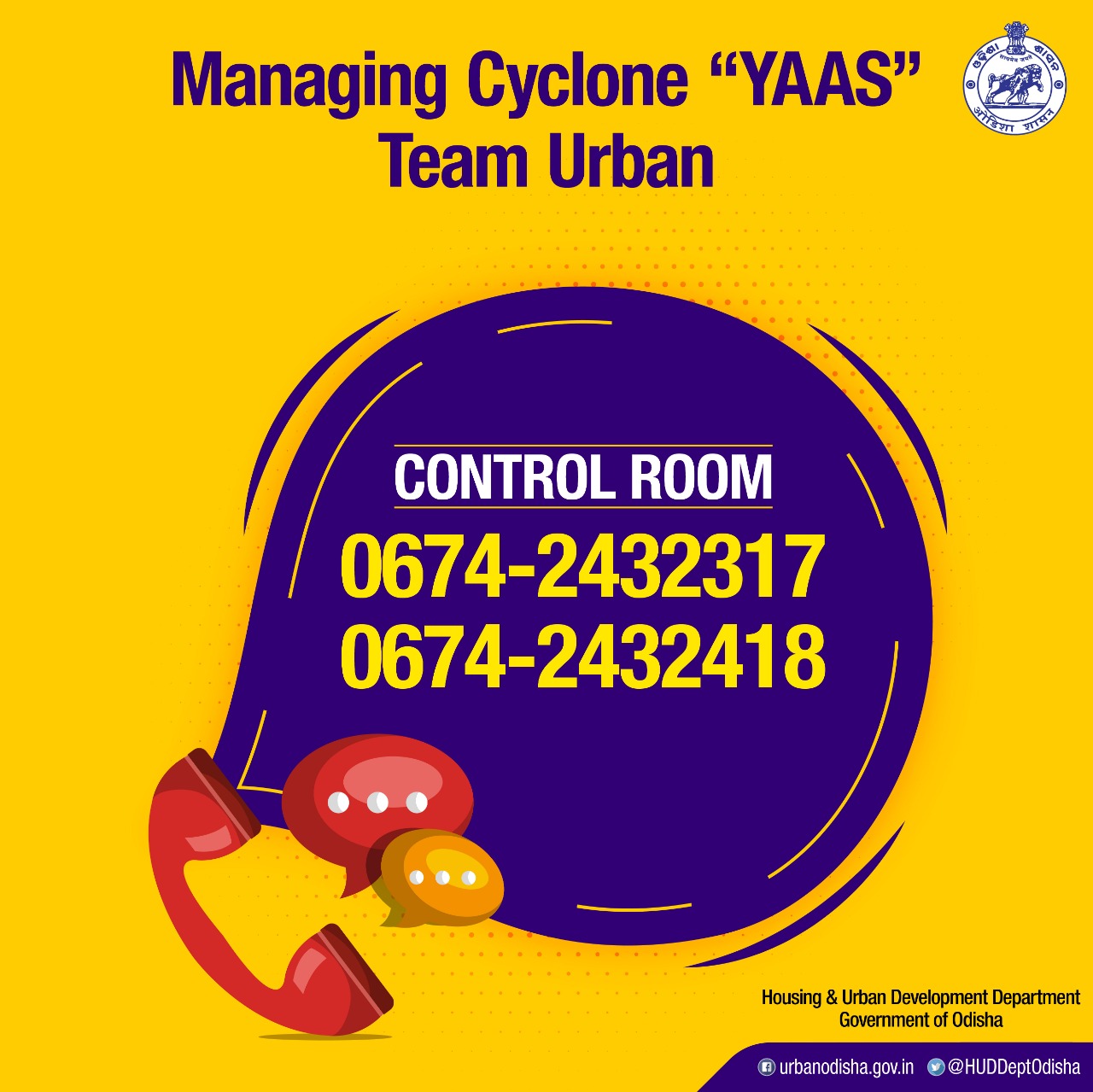 Bhubaneswar: Team Urban gets in readiness as five districts Jagatsinghpur, Kendrapara, Bhadrak,Jajpur and Balasore are put on high alert due to impending 'YAAS'.
The District Administrations have been instructed to implement a "fool-proof" evacuation mechanism and to ensure "Zero Casualty".

Housing and Urban Development Department had already issued detailed Standard Operating Procedure(SOP) to the probable ULBs which are anticipated to have impact of Cyclone. It has been accessed that around 37 lakh urban population of 1137 wards of Urban Local Bodies may likely to have impact. Out of which 2.7 lakhs urban population of 93 wards are under worst impacted probable ULBs. All necessary arrangements have been ensured and being continuously monitored.

ULBs of Bhadrak, Balasore. Jagatsinghpur, Kendrapara, Jajpur are likely to be impacted most by YAAS. Dedicated Urban Team is in active operation with the supervision of senior officers to ensure smooth moves. The SoP issued is strictly monitored and timely assistance highlighted by ULBs are addressed on Top Most Priority Basis

A Dedicated State level Control Room of H&UD Department have been established at the State Urban Development Agency (SUDA), Bhubaneswar and it in active operation round the clock.

Similar dedicated Control rooms have been established at 61 ULBs which may have impact of the cyclone.

District Administrations have formed dedicated teams to facilitate smooth moves.

Special attention on the probable ULBs of aforesaid 5 Districts which are likely to have severe impact is ensured. Senior officers from other ULBs- 17 additional Eos/Engineers have been positioned in Critical ULBs to manage the situation. More than 520 Cyclone Shelters with adequate accommodating capacity are setup in the critical ULBs with all requisite essentials like, Dry Food, Water, Toilet, Medical kits etc have been fully equipped. Special care for Specially abled, Women and kids are ensured. Strict adherence of COVID- 19 Protocols is ensured and all medical emergency facilities have been arranged to avoid any last moment rush.

Ensuring the uninterrupted Water Supply, Storage Reservoirs have been filled and necessary back up arrangements like DG Sets and Generators etc have been ensured. More than 500 Aska Lights and 500 Gensets have been made available at ULBs which are likely to face the impact of Cyclone . For Dewatering purpose 550 pump-sets already in place and more are under way by Line Departments to manage challenges if any .Uninterrupted water supply in the ULBs which are likely to have impact of cyclone have been ensured .

Dedicated Control Rooms for Water Supply issues have been established in all vulnerable ULBs and numbers shared online on social media. Over 550 DG Sets have been procured from different districts and neighbouring states to ensure Power Back to be sufficient for Drinking water treatment and distribution. All Existing Service Reservoirs have been filled to capacity to avoid disruption to supply of water.

Over 180 Water tankers have been taken on hire and redirected to all vulnerable ULBs. To enforce sufficient social distancing Over 700 PVC storage tanks have been established in all water scarce areas throughout the ULBs for continuous supply and re-filling through tankers. Additionally, Hand pumps Tube wells have been serviced and local teams shall ensure they are functional at all times.

Mobile Rapid Action teams have been formed under the Engineer -In-Charge to ensure any quick repair work is undertaken in the case of any damage that causes disruption to supply. Nodal Officer have been appointed to ensure supply is sufficient to Cyclone rehabilitation centres and shelters. Senior Level officers have been redirected from other parts of the state to ensure there is coherence in coordination with other line departments and ensure there is a holistic approach towards mitigating any challenges that may .