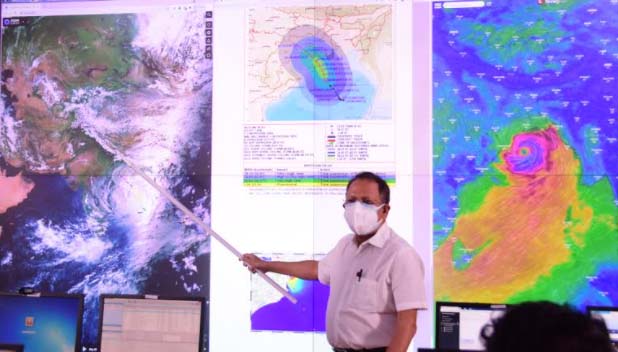 Bhubaneswar: Odisha Government has the target of evacuating the people in the districts likely to be affected by the impending Very Severe Cyclonic Storm 'YAAS' by Tuesday evening.
According to Special Relief Commissioner (SRC) Pradeep Kumar Jena while there are around 860 permanent shelters, 6031 additional cyclone shelters have been identified.
"Altogether, around 7.5 lakh people can be accommodated in the shelters," he added.
Mr.Jena informed that in view of the latest predictions, the State Government has geared up for the possible landfall anywhere at Bhitarkanika, Chandbali, or Dhamra area of Odisha.
Based on the tracks, if the landfall occurs at Dhamra or Bhitarkanika, Collectors have been instructed to evacuate vulnerable persons at Bhuban, Kankadahad and Gondia in Dhenkanal district, Pallahara and Kanhia in Angul district, and Bonai and Lahunipara in Sundargarh district in view of the surge in wind speed by tomorrow afternoon.
The SRC further informed that rainfall above 50 mm has been witnessed in 35 blocks in the last 24 hours with the highest rainfall being recorded at Rajnagar in Paradip. Squally wind has been continuing over the coastal areas which may intensify after today evening.
Wind speed of 60-90 kmph is expected at some areas in Puri, Jagatsingpur, Cuttack, and Bhubaneswar, he added while requesting all the vulnerable people in these areas to move to safer places.
The evacuation will take place in seven districts – Balasore, Bhadrak, Mayurbhanj, Puri, Kendrapara, Jagatsinghpur, and Jajpur, in the wake of Cyclone YAAS which will make landfall on the wee hours of Wednesday.
Additional DGP (Law and Order) YK Jethwa who is supervising the evacuation process said till Tuesday afternoon, 81,661 people from vulnerable areas have been shifted to cyclone shelters.
"The evacuation drive is being carried out on priority. Over the next few hours, the drive will be expedited and completed," he said.
Following the evacuation, the focus will be on the deployment of men and machinery for relief and restoration work. So far 60 formations of Odisha Disaster Rapid Action Force, have been posted at vulnerable locations, 55 platoons of OSAP have joined ODRAF to assist in rescue and recovery.
This apart, the NDRF, and Odisha Fire Service teams are also stationed at important locations under the supervision of district police and administration. The ODRAF teams have high-end equipment and earth-moving machines to effectively carry out restoration work, said Jethwa.
"We have equipped the teams with boats to reach out to inaccessible areas, satellite phones for uninterrupted communication, and high-end generators for power supply, to enable the rescue teams to carry out their work promptly and effectively," he added.
Meanwhile, the Panchayati Raj and Housing & Urban Development Departments have sent additional 710 DG sets, 813 water tankers, and 1800 PVC tanks with additional manpower to the vulnerable districts, Energy Department is ready with around 27000 electricity poles, 2600 km of conductors, 1125 transformers, 150 cranes, 160 generators, and 500 vehicles, said Jena.
Health Department has formed 308 health teams, 215 additional generators have been arranged at all the health centers, adequate amount of drugs are available and adequate arrangements have been done for the stay of all doctors, paramedic staff, patients, and their attendants at the hospital, he added.
In Balasore 1,28,440 people are to be evacuated while in Bhadrak 94,369, Mayurbhanj 46,000, Puri 30,000, Kendrapada 20,750, Jagatsinghpur 15,000 and Jajpur 20,000