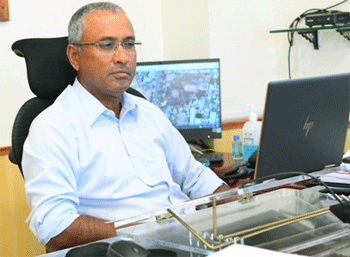 Beating the Covid-19 crisis in different sectors of economy, State has maintained upward trend in revenue generation because of Government's dynamic financial management strategies.
By November end of the current year, the total revenue collection has grown by 4% over the corresponding period of last financial year.
This was known from All Secretaries meeting chaired by Chief Secretary Asit Tripathy on Wednesday.
Reviewing fiscal performances of various departments up to November-2020 presented by Principal Secretary Finance Ashok Kumar Meena, the Chief Secretary directed the departments to focus on faster implementation of the projects by utilizing the budgeted money without parking the funds anywhere.
He also directed the departments to ensure expeditious execution of the infrastructure laying and livelihood generating projects.
Development Commissioner Suresh Chandra Mohapatra directed the departments to take regular review and monitoring of the OMBADC and DMF projects.
He said the projects of around Rs. 20,000 crore are being implemented in major mineral bearing districts like Angul, Jajpur, Jharsuguda, Keonjhar, Koraput, Mayurbhanj, Rayagada, and Sundargarh.
These projects would cater to many basic needs of the people, he added.
Mr.Tripathy asked the departments of Water Resources, Rural Development, Works, Housing & Urban Development to prioritize identified strategic projects and complete those within the scheduled time.
Mr.Meena assured the departments that there would be no dearth of funds implementation of these projects.
The review showed that the revenue generation from both own tax and non-tax sources grew around four per cent by end of November, 2020 in comparison to the corresponding period of the last year.
The total revenue generation from both the sources by end of November, 2019 was around Rs. 28,402 crore which increased to Rs.29,411.29 crore during the current financial year.
The total non-tax revenue during the period grew by 23.29 per cent during in current fiscal in comparison to the last fiscal year.
The total revenue generated from non-tax sources up to November 2019 was Rs. 8485 crore which increased to around Rs.10,462 cr during corresponding period of the current year.
On face of shutdowns and lockdowns, the total budget utilization by end of November, 2020 reached around Rs.60,000 crore in different infrastructure, social and agriculture and allied sectors.
Agriculture Production Commissioner Raj Kumar Sharma, Additional Chief Secretary Health & Family Welfare Pradipta Kumar Mohapatra, Additional Chief Secretary Rural Development and SRC Pradeep Kumar Jena, Additional Chief Secretary Forest & Environment Mona Sharma along with Principal Secretaries, Secretaries and Special Secretaries of all departments participated in the discussion.