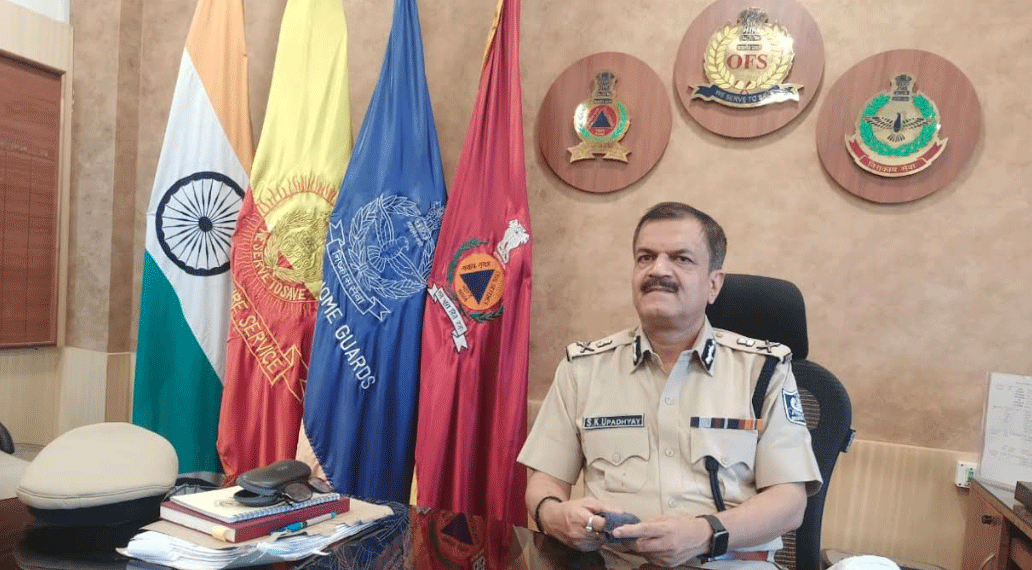 Cuttack: Veteran Top Cop Santosh Kumar Upadhyay today joined as Director General of Police, Fire Services, Commandant General, Home Guards and Director General, Civil Defence.
1988 Batch IPS,Mr.Upadhyay took charge at the Directorate of Odisha Fire Service, Home Guards and Civil Defence in Cuttack.
Started his 34 years long IPS Career as Sub Divisional Police Officer (SDPO) Sambalpur and later promoted to Additional Superintendent of Police.
He has served in a number of districts across the State as SP in Malkangiri, Koraput, Mayurbhanj, Dhenkanal, Balangir and Puri districts with sincerity and honesty.
Mr.Upadhyay has distinction of serving in all specialized units of police Crime Branch, Intelligence, Vigilance, Law and order, Operations and Communication in various capacities as SP, DIG and IGP.
He has served several ranges as DIG including Bhubaneswar Range, Southern Range, Berhampur; Central Range, Cuttack.
Mr.Upadhyay has been conferred with President's Police Medal for Meritorious Service and Distinguished Service. He has been awarded Antarik Surakhya medal for organizing in Anti Maoist Operations as SP Malakangiri, Koraput, DIG Southern and South Western Ranges.
Mr.Upadhyay has also worked as Director of Investigation of the Odisha Human Rights Commission. He was in charge of OPHWC as CMD. He has attended Anti-Terrorism action training in USA and MCTP training in the USA. He assumed charge of state CID CB of Odisha and supervised the work of CID CB, Economic Offence Wing Special Task Force, and Cyber-Crimes from 2017 to 2019.
On promotion to rank of DGP, Mr.Upadhyay DG Prisons in January 2020 and has taken steps to improve the prisons.
He brought out the in notification of New Model Prisons Manual 2020 and has been successful in taking steps for modernization, bringing in reforms in prisons across the State.
Mr.Upadhyay has sincerely implemented 5T Charter under Mo Sarkar Program in Prisons, which is now yielding positive results.
Senior Top Cops received Mr.Upadhyay and he took charge as DG Fire Services and officials expect that there will be lot of activities including modernization of the system.
After taking charge, Mr.Upadhyay said that he will try to provide time bound services to the public and will adhere to the guidelines of the State Government in Department of Home.