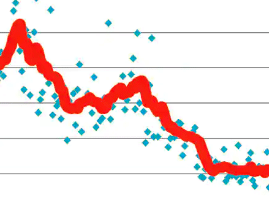 Bhubaneswar: The State Government is planning to begin unlock process in the districts reporting low test positivity rate (TPR), said State Director of Health Services, Bijay Mohapatra.
In the wake of the second Covid wave, the Government had imposed lockdown from 5-14 May, which as first extended to 1 June and subsequently to 17 June.
With the steady fall down of Covid-19 infection cases during past several days, the Government has started process to go for a phased unlock in the State.
Speaking to media persons here, Dr.Mohaptra said, "The districts have been divided into three zones based on their Test Positivity Rate. One zone is having TPR above 10 per cent, another TPR 5-10 per cent while the third zone is having districts of TPR less than 5 per cent."
The lockdown restricts likely to be relaxed in the districts having less than 5 per cent infection rate while the restrictions will continue in districts having 10 per cent or more rate of infection, he said. Necessary action will be taken by the Government for the districts having TPR of 5 to 10 per cent, the director said.
Dr.Mohapatra said a meeting of top health officials will be held soon and decision will be taken on unlock process after 17 June.
On 8 June during a review meeting on State's Covid situation, Chief Minister Naveen Patnaik had said, "Unlock districts where positivity rate is declining in a phased manner is under active consideration of the State Government."
The number of active cases has drastically fallen in Western-Southern districts. Northern (Mayurbhanj and Balasore) and Costal (Khurda, Cuttack, Puri, Jagatsinghpur and Jajpur) districts are showing a rising number of cases.
In the past one week from 5-11 June, nine districts of Ganjam, Sonepur, Kandhamal, Deogarh, Bargarh, Gajapati, Sambalpur and Balangir reported test positivity rate of less than five percent.
Similarly, 13 districts of Odisha—Bhadrak, Jajpur, Khurda, Balasore, Cuttack, Puri, Dhenkanal, Kendrapara, Mayurbhanj, Angul, Sundergarh, Nayagarh and Jagatsinghpur have reported a TPR of above 10 per cent during past week.
The TRP was 5 to 10 per cent in the districts like Rayagada, Boudh, Nabarangpur, Koraput, Malkangiri, Keonjhar, Kalahandi, Jharsuguda and Nuapada.
While Bhadrak district reported highest TPR of 28.39 per cent during the week, Ganjam reported lowest TPR of 2.6 per cent during 5-1 June 5.
Commenting on the increasing trend of Covid fatalities during past few days in the State, the Director said 62 per cent patients are still in the ICU and on ventilator support. Their health status would decide the fatality graph in the near future, he said.
The daily Covid-19 cases further dipped in Odisha and the State reported 4,852 cases during past 24 hours. However, the State has reported highest single day death cases of 47 today.