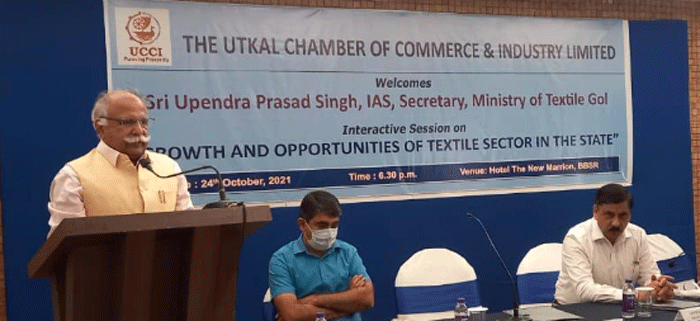 Bhubaneswar: Considering the potential of the textile sector in boosting the economy and harnessing employment opportunities, Utakal Chamber of Commerce and Industry (UCCI), the apex trade body in Odisha today expressed its desire to partner with the government in carrying forward various schemes and programmes being implemented in this sector.
In a memorandum to the visiting Union Textile Secretary, UP Singh, the trade body said it was keen to involve itself in skilling and upskilling training programme in textile and apparel sector in Odisha through its dedicated techno managerial team drawn from various member Industries in creating employment opportunity both in textile & apparel sector in the state.
Apart from organising buyer/seller/investor meets, roadshows for investment in complete value chain of textiles with special thrust on apparel sector, seminars/workshops on textile and allied field for creating awareness amongst various stakeholders, it can facilitate export/import documentation for new and existing apparel industry.
It also urged the Union Textile secretary to continue with the Textile Committee office of Govt. of India in the state for supporting UCCI for taking up these activities in addition to their existing work in the state in handloom and textile sector.
"In view of the launching Mega Textile Park (PM MITRA) claim of our State be considered in view of various advantages it possesses," its president Bramha Mishra impressed upon the Union Secretary.
UCCI also urged the Centre to consider Advance Training Centre in Tribal areas for imparting latest technology and operation of modern machines such as embroidery, steam iron, double needle/four needle stitching, button and whole fixing machine and so on.
"With more and more areas coming under Cotton cultivation in KBK districts, the need of spinning Mill assumes greater significance and special incentives may be considered for entrepreneurs investingin left wing affected districts and aspirational districts," the memorandum said.
As The quality of cotton fibre of Odisha is considered as one of the best in its category for which value addition can be done within the State by attracting big players, the memorandum said adding that already ADITYA Birla group has committed to establish one Apparel unit in Laxmipur (Koraput District) and its other concern Madura garments is running successfully in Mancheswar Industrial Estate.
With brands like Sambalpuri, Maniabandh, Berhampur silk, Sonpur cotton, Tassar Silk and many moreall available in Odisha, UCCI also requested the Union Secretary to set up a suitable institute to upgrade the skill of artisans with technology support and make designer garments to capture huge market available now for such handmade clothes.
"UCCI can play in monitoring, evaluation of various schemes of the Government so as to give timely and quality feedback for further improvement," said its president Bramha Mishra while urging the Union Secretary to designate UCCI as facilitating agency of any such training programme in the field of textile and allied sector including SAMARTH.