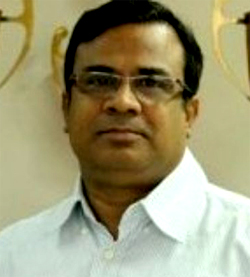 Bhubaneswar: The Odisha government on Thursday appointed retired IPS officer Jalad Kumar Tripathy as State Chief Information Commissioner (CIC).
"In pursuance of sub-section (3) of section-15 of the Right to Information Act, 2005 (22 of 2005) and on the recommendation of the Committee constituted for the purpose, the Governor of Odisha is pleased to notify the appointment of JK Tripathy as the State CIC, Odisha Information Commission from the date he assumes charge of office," the Information and Public Relation Department, Principal Secretary, Bishnupada Sethi said in a notification today.
The Committee headed by Chief Minister Naveen Patnaik had approved the name of the former IPS officer for the chief post in the Odisha Information Commission (OIC) during its meeting held on Tuesday over virtual mode, sources said.
As per norms, he will hold office for a term of five years from the date of joining and maximum upto attained the age of 65 years.
Tripathy is a 1985 batch Odia police officer of Tamil Nadu cadre. He has served as Director-General of Police/Head of Police Force of Tamil Nadu. He is popular for community policing in the TN State.
A native of Odisha, Tripathy has served the Tamil Nadu police in various capacities across Tamil Nadu over three decades in various capacities including Crime Branch CID and Economic Offences wings.
During his tenure as Commissioner of Police, Tiruchi, he brought laurels to the force by introducing innovative schemes to prevent crimes that bridged the gap between the police and the public.
The initiatives — 'Beat Officers' System,' 'Slum Adoption Programme' and 'Complaint Box System' — got him the Prime Minister's Award for Excellence in Public Administration, introduced in 2005.
He also received the prestigious 'International Community Policing Award' instituted by the International Association of Chiefs of Police (IACP), Washington, and the gold medal for 'Innovation in Governance,' conferred by the Commonwealth Association for Public Administration and Management (CAPAM), Glasgow.
During his tenure as Police Commissioner, Chennai, Tripathy and his team detected two sensational bank robberies at gun-point that rocked the city. Five gangsters involved in the robberies were shot dead in an encounter at Velachery in the city in February 2012. He retired from the police service on June 30 this year.