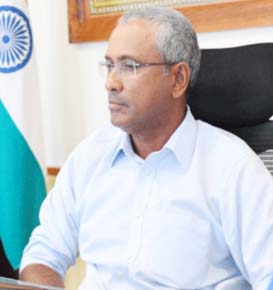 Bhubaneswar: With Western Odisha requiring more thrust for acceleration of development , Ace Administrator, Asit Tripathy has been brought in as Chairman of Western Odisha Development Council (WODC).
Chief Secretary Mr.Tripathy, who is superannuating on 31 December, has been appointed as Chairman WODC on 25 December.
While a number of political personalities were interested for WODC Chief post, Chief Minister Naveen Patnaik picked up the able Mandarin to scale up the activities of the Council.
Not only the Chairman WODC, but also he has been appointed as Principal Advisor to Chief Minister on Regional Development, Agri Business, Tourism and Industrial Development.
While Regional Imbalance is an issue that bothering the State, Mr.Tripathy as Principal Advisor to CM on Regional Development will chalk out Road Map to minimize the gap between regions of the State and will expediate the process of development, officials say.
Mr.Tripathy took over as Chief Secretary on 19 August, 2019 and has been serving the state in a Team Spirit.
Known for his sportsman spirit, he has been quietly scaling up activities during COVID-19 Pandemic, which has threatened the economic fabric of the State.
While Western Odisha requires able leadership for taking up development in a big scale, Mr.Tripathy has been chosen by Chief Minister Naveen Patnaik to Chair the crucial organization to spearhead the development process in the Western Region of the State.
Mr.Tripathy, who has flair in promoting tourism and knack to attract investment, has rightly been appointed as Principal Advisor to CM on Industry, Tourism, Agri Business and Regional Development.
As former Chairman of APEDA, Mr.Tripathy has the expertise and ability to scale up activities in Agri Business, which is the need of the hour as Government of India is stressing upon the subject.
Known as Industry savvy mandarin, Mr.Tripathy will be able to generate confidence among the investors, who are facing tough time during COVID-19 Pandemic and in Post Pandemic scenario, hand holding exercise is needed for the investors.