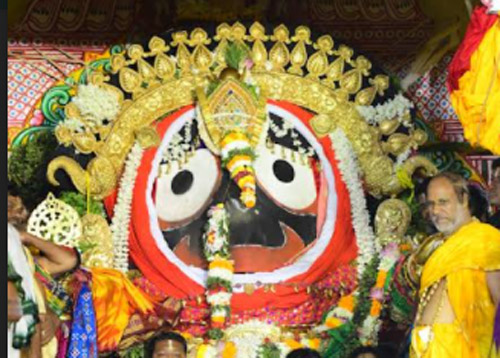 Puri: Beating humidity, lakhs of devotees thronged to the pilgrim town Puri to witness the majestic Suna Besha of the Trinity on their respective chariots on Sunday evening.
Gold ornaments weighing around 200 kg were brought from the temple treasury to the chariots by servitors amid tight security at around 4 pm.
It took almost two hours for the special servitors to decorate the idols of Lord Balabhadra, Lord Jagannath and Devi Subhadra atop the chariot. The ritual, which is also called Rajadhiraja Besha, performed smoothly. Mahaprabhu along with his siblings will give darshan on Suna Besha till 11 PM.
During Suna Besha ritual, Lord Jagannath is adorned with a Chakra made of gold in his right hand and a silver conch in his left hand. Lord Balabhadra is decorated with a gold plough in his left hand and silver mace in the right hand. Devi Subhadra is also prettily adorned with her best golden and diamond ornaments.
The other ornaments that the Trinity adorn are Harida Kadamba mali and Baghanakhi mali, only for Lord Jagannath, Kiritta, Ears, Bahada mali, Tabija mali or garlands, Kadamba mali, Sebati mali and Tilaka, Adakani, Chadra-Surya, Allaka, Odiani, Chandrika and Tadaki.
This morning, rituals such as Abakasha, Mangala Alati and Mailama Tadapa Lagi were carried out. Other major rituals such as Sandhya Alati, Madhayna Dhoopa, and Gopalballava were carried out before Suna Besha.
The Holy Trinity has completed their nine-day journey to Shree Gundicha temple. They will return to Srimandir the day after tomorrow. The Trinity would spend two more nights on their chariots. On Monday, they would be offered 'Adharpana', a special holy drink.
Meanwhile, elaborate security arrangements were made with deployment of a large number of police personnel to regulate vehicular traffic from Pipili.