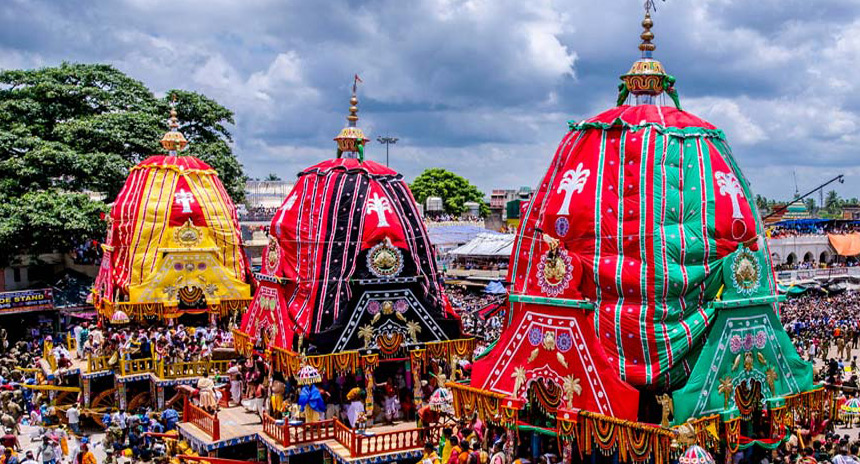 Puri: With the commencement of pulling of Chariots, Lord Jagannath and his siblings Lord Balabhadra and Devi Subhadra started their nine-day journey to Shree Gundicha temple much before the scheduled time.
All rituals, starting from Pahandi Bije of the three deities, to Chhera Panhara of the annual Ratha Jatra completed much before the scheduled time and in a very high spiritual atmosphere. With the pulling of chariots, Juggernaut started rolling in the Bada Danda.
Lakhs of devotees thronging the Grand Avenue as they were allowed to participate in the biggest festival of Odisha, after a gap of two years due to Covid curbs.
Adorned with tahias (giant floral crowns), chants of hari bol & Jay Jagannath, the three deities along with Lord Sudarsan were brought out of the sanctum sanctorum in the Dhadi Pahandi procession to their chariots parked before Srimandir.
Puri Shankaracharya Swami Nischalananda Saraswati accompanied by his disciples and servitors offered prayers to the deities on their respective chariots. Following this ritual, Gajapati Maharaja of Puri, Dibyasingh Deb arrived in his royal palanquin and carried out the Chhera Panhara ritual, the ceremonial sweeping of the chariots with a golden broom, amid chanting of hymns by the priests.
Pulling of the three gigantic chariots by the servitors was started around 12.45 pm. Taladhwaja of Lord Balabhadra was pulled first followed by Darpadalana of Devi Subhadra and Nandighosa of Lord Jagannath. It seems that all the three Chariots will reach Saradhabali by this evening. The Pahandi ritual at Mausi Maa Temple will be held tomorrow morning.
After a gap of two years, Chief Minister Naveen Patnaik visited Puri to witness the Rath Jatra. Governor Ganeshi Lal, the CM, Union Minister Dharmendra Pradhan and Orissa High Court Chief Justice S. Muralidhar pulled the chariot in the morning.
The world-famous Rath Jatra was viewed by millions around the world through their television sets. Tight security arrangements have been put in place for smooth conduct of the festival, thanks to overdrive of DGP Sunil Bansal and his Team.
PM Narendra Modi took to Twitter and wrote, "Greetings on the special day of Rath Yatra. We pray to Lord Jagannath for his constant blessings. May we all be blessed with good health and happiness."
More than 180 platoons of police personnel, including 1,000 officers of various ranks are deployed in and around Puri to ensure safe conduct of the festival. The police made special arrangements for smooth flow of traffic.
The railways engaged scores of armed policemen while CCTV cameras have been installed at various places across the town.