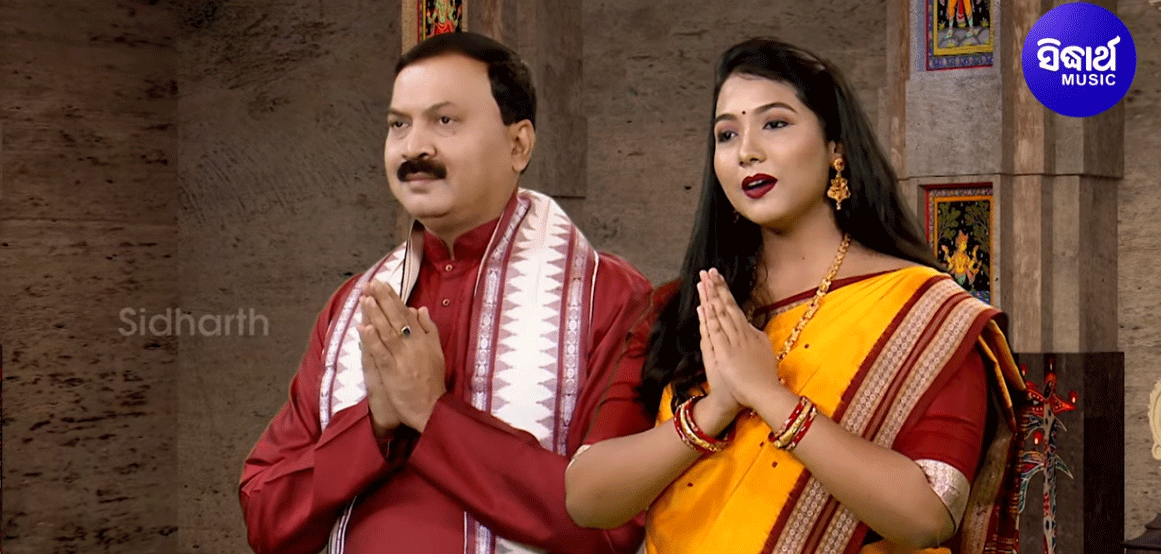 Bhubaneswar: Music has become the passion for Father-Daughter Duo as Satyabrata Sahu and Sanskriti Sahu have started singing bhajans and have generated huge interest among the listeners and winning hearts across the state.
Thanks to their way of singing bhajans, it is not only enchanting but also generating divine feeling among the listeners.
On the auspicious occasion of world-famous Rath Jatra, four Jagannath Bhajans of Veteran Bureaucrat and Jagannath devotee Satyabrata Sahu and his daughter Sanskriti released on Friday.
Satyabrata has sung ten Bhajans while his daughter Sanskriti sung her maiden Bhajan titled 'Sanja Sakale Tuma Chhabi Khoje' very beautifully.
The 4.33 minutes long Bhajan has been uploaded on Youtube (https://www.youtube.com/watch?v=PoeEomj0fZs&t=1s).
In the video uploaded in Youtube channel of Sidharth Music, Sanskriti along with his father and mother Sonali were seen singing the song by standing before Lord Jagannath statue with folded hands.
Lyrics have been composed by Sarada Prasanna Nayak while music has been directed by Shreekumar. Within a few hours, over 10,000 persons have listened to the Bhajan.
Similarly, the ardent devotee of Lord Jagannath and a veteran mandarin has sung two new Bhajans titled Tike Jaai Tike Atakuchi Tora Ratha and Rathara Upare Bamana Rupare.
He also sung some super hit songs originally sung by famous Bhajan singer Late Bhikari Bal and others.
The series of songs have been uploaded in Youtube.. https://www.youtube.com/watch?v=WSnRX6vEqMA Over 24,000 people have listened to the songs within a few hours after release.
So far, he has sung several Bhajans like a professional playback singer. On June 14, on the auspicious occasion of Debasnana Purnima, Mr. Sahu's Bhajan titled 'Thaau Re Kalia ThaauTo Snahana Setiki Thhau' was released.
Earlier, his four Bhajans, Jagat Janani Maa Tara Tarini, Dukha Bujhanti Maa Tara Tarini, Sankata Harini Maa Tara Tarini and Dhanya Dhanya Tume Dui Bhauni released on one day.
On 2 February, for the first time, Mr.Sahu had sung the famous Odia Bhajan Jagannatha Ho Kichhi Magunahin Tate. The bhajan gives a divine-like feeling to the listener, even though the song has already been sung by famous singers like Late Bhikari Bal, Namita Agrawal, Arabinda Muduli.
On the occasion of Maha Shivratri, he sang a Bhajan on Lord Shiva, titled Deba Deba Mahadeva.
Prior to that, Mr.Sahu, serving as Principal Secretary School & Mass Education sang for Mo School Abhiyyan.
The Ace bureaucrat has sung on Mo School Abhiyan, which was applauded across the State.
Mr.Sahu serving as Additional Chief Secretary Revenue & Disaster Management sang a beautiful bhajan on Sirdi Sai Baba. He is also an ardent devotee of Sai Baba.
Even though being a serving veteran bureaucrat his passion for singing bhajans is unmatched. Mr. Sahu takes time on holidays to sing bhajans.
After listening his bahjans, senior mandarins and former Secretaries of Government of India and Ex Chief Secretaries have pleasantly lauded his way of singing and while appreciating his efforts, they have urged him to sing more bhajans and continue the initiative in future.