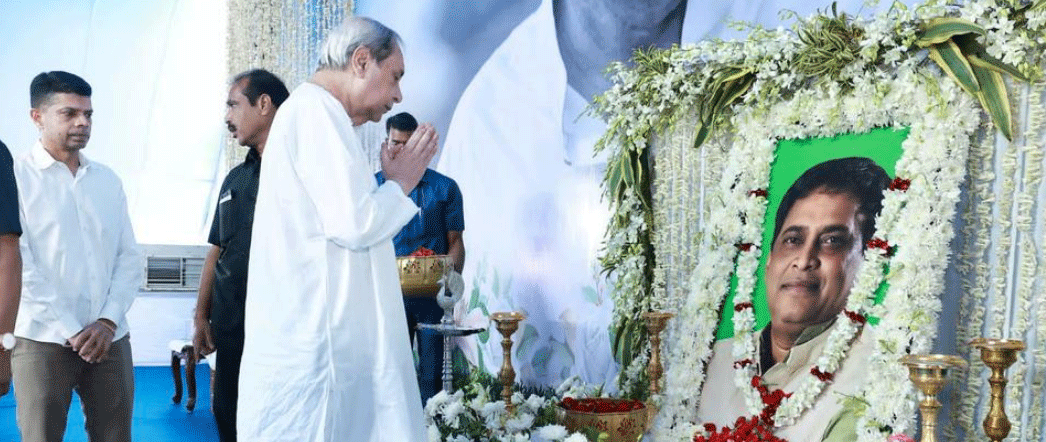 Jharsuguda: Chief Minister Naveen Patnaik on Thursday paid floral tributes to Health Minister Late Naba Kisore Das at Shradhanjali Sabha organised here on 12day to the latter's death.
Soon after arriving at Jharsuguda, the Chief Minister met the family members of Ex Minister and proceeded to the venue of the Shradhanjali Sabha. He had a brief interaction with the slain leader's daughter Deepali and son Bishal and consoled them.
A large number of BJD leaders including Ministers, MLAs and other party functionaries attended the Shradhanjali Sabha and addressed there. BJP MP Suresh Pujari and Congress leader Kishore Patel too attended the event.
Slain BJD Leader's daughter Deepali got emotional while addressing a large gathering and said, "He (Naba Das) is no more with us, but he has left behind the trust & faith of people which he earned as a leader. The sheer number of people standing with our family in this hour of grief is overwhelming. We feel so proud to be his children."
"My father's only dream was the development of Jharsuguda. I would like to thank all those who extended their help and blessings including Chief Minister Naveen Patnaik," she said.
Meanwhile, the Crime Branch, which is investigating the sensational murder case, said they have brought the accused Gopal Krishna Das on further remand of 5 days w.e.f. February 8, 2023 for continued interrogation.
First round of Polygraph test of accused was held at SFSL, DFSS Gandhi Nagar, Gujarat. The test will continue tomorrow also. The Narco Test will also be conducted tomorrow after a detailed medical examination of the accused.
An 8-member team led by the investigating officer DSP Ramesh Chandra Dora is camping at Gandhinagar for the above tests. ADG Arun Bothra is camping at Gandhi Nagar to personally monitor and supervise the investigation of the case.
The forensic psychological assessment and LVA Test of accused Gopal Krishna were conducted by the team of CFSL, New Delhi at Jharsuguda on February 6.
The special Medical Board consisting of Psychiatry doctors has conducted a detailed study of the mental health of accused at Jharsuguda. The report is awaited, said CB sources.
The Experts from SFSL, Gandhinagar, Gujarat and the CB team recreated the Crime Scene on February 7, 2023. The team also analyzed the physical clues obtained/collected during investigation of the case.
The financial transaction of the accused and his family matters are being verified and analyzed by a team of CB.
The documents and evidence collected by various teams are being scrutinized and analyzed to ascertain the motive of the murder.
The detailed service verification of the accused is also being carried out by a team of CB, headed by a DSP, officials said.