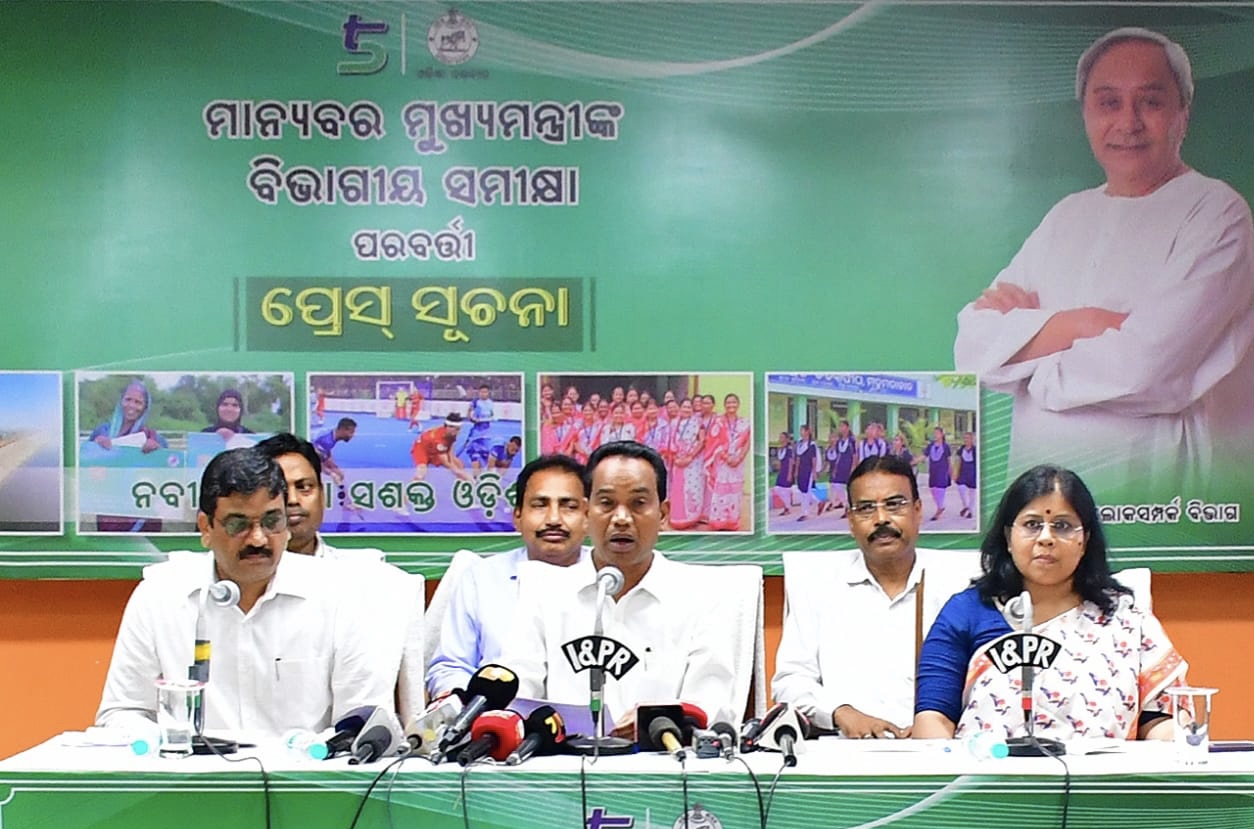 Bhubaneswar: To promote tribal art and culture, the State Government has decided to set up Tribal Museums in eight districts, where Special Development Councils have been formed.
Chief Minister Naveen Patnaik today reviewed the achievements of the ST & SC Development, Minorities and Backward Classes Welfare Department in the 3rd Floor Conference Hall of Lokaseva Bhawan. Department Minister Jagannath Saraka and Secretary Roopa Roshan Sahoo have briefed the media about the achievements of the department. STSCRTI Director Indramani Tripathy was present.
The districts are Mayurbhanj, Malkangiri, Keonjhar, Koraput, Nabarangpur, Rayagada, Gajapati, Kandhamal, and Sundergarh districts.
The Tribal Museums will be established in Mayurbhanj, Malkangiri, Keonjhar, Koraput, Nabarangpur, Gajapati, Kandhamal, and Sundergarh districts. Land has been identified for construction of Tribal Museum and boundary wall construction has been completed in 6 districts, he said.
Special Development Councils (SDCs) are formed under the Chairmanship of an eminent tribal person of the locality to focus on promotion, protection and preservation of the tribal culture and traditions, heritage and identity by involving tribal people.
SDC started in 2017 covering over 60 lakh people in 117 blocks in 9 districts with more than 45% ST population. The number of districts was increased to 23 and blocks to 172 covering more than 84 lakh ST people in 2023, he said.
An amount of Rs 223.5 cores has been budgeted for 23 SDCs for the year 2023-24 for 62 tribal groups including 13 PVTGs. Under the scheme, 4731 sacred groves in 9 districts completed while 1609 Tribal Cultural Club set up, 828 weekly Hats identified for improvement, 1870 musical troupes benefited, 10605 tribal delegates availed exposure visits, I-Cards issued to 36309 tribal artisans and 2249 clubs provided with sports kits, the Minister pointed out.
Shri Saraka further said that 51 Tribal Resource Centres (TRCs) were constructed in Sundargarh district.
More than 6 lakh students from 4.2 lakh households are studying in 1735 schools functioning under the department. In last 20 years, number of High Schools under ST&SC Dev Department has increased to 422 from 215. Similarly, 62 Higher Secondary Schools have been opened for providing Higher Secondary Education.
Smart classrooms and all 5T facilities are going to be provided to all the high schools under the department along with Standard-VIII classes. To promote critical thinking in students 1405 Reading Corners and 500 Smart classrooms have been set up across schools.
Further all 422 High schools are equipped with ICT labs. For children in Primary schools tabs have been provided to make learning from engaging and fun, he pointed out.
In 17 micro projects areas with PVTG communities, 17 dedicated educational institutions from class I-X are functioning from 2007-08.
Anwesha programme started in 2015-16 with an objective for providing English Medium Education to ST&SC students in CBSE & ICSE syllabus by admitting them in different English Medium Public Schools in urban areas or areas adjacent to urban local bodies. Currently, 80 such hostels are operational and cater to close to 22,000 students. This year, 1500 more students will join the Anwesha scheme.
There are 10 Kalinga Model Residential Schools operating since 2019 for providing residential English medium education in CBSE syllabus (VI-XII) for the ST&SC children in Tribal Sub Plan areas.
One Biju Pattnaik Adarsh Vidyalaya has been established in Berhampur in the year 2018-19 for providing residential English medium education in CBSE syllabus (VI-XII @120 students per class).
To promote girl child education and reduce dropouts, the department has dedicated KBK hostels and 188 exclusive Girls High Schools. These hostel students are provided with Free Textbooks, Uniforms and Meals. To take care of the Holistic Nutritional Development of the students, an additional Rs 1000 per child per annum has been provisioned.
"Parents as Partners" a new and unique initiative ensures 4 lakh parents to be stakeholders in education systems. For promotion of sports and games in the schools a provision of Rs 10 Crores has been made.
As many as 8 Akankhya hostels have been established in the State for providing free lodging to ST&SC students pursuing post matric education.
Under Mukhya Mantri Medhabi Chhatra Protsahan Yojana, financial assistance is being provided to meritorious ST & SC Students for higher education in national importance / premier state institutions. Free coaching for medical and engineering aspirants under this scheme, Sahoo said.
As many as 5 lakhs ST&SC border students are provided with Rs 550 crores of pre matric scholarship annually. For OBCs and minorities 100+23 dedicated hostels are on different stages of construction, the Secretary said.
The department has a MultiLingual Education (MLE) policy under which content has been prepared in 21 bilingual and trilingual languages for different classes. This is supported by language and curriculum-based training for the teachers, she said.
MMJJM (Mukhya Mantri Janajati Jeevika Yojana) is a state scheme for livelihood at household level intervention for three-years from 2022-23 to 2025-26 with a budget of Rs 500 crore. The scheme primarily focuses on tribal-dominated 119 blocks covering 931 GPs with provisions for critical input support to beneficiaries.
Approximately 2.4 lakh households benefited from Mission Jeevika program while more than 1 lakh households benefited under the Minor Forest Produce.