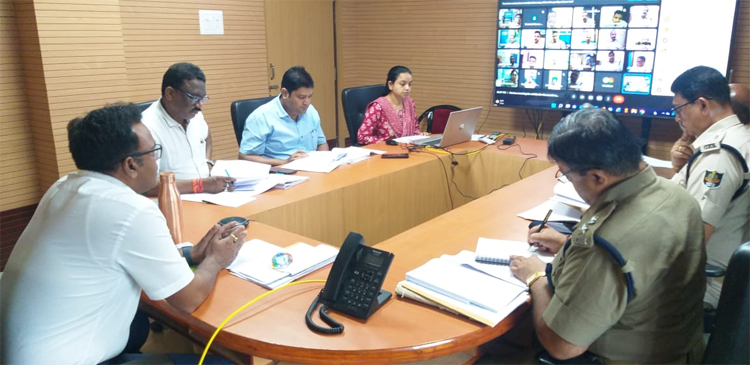 Bhubaneswar : State Excise detected a record number of 454 cases under NDPS Act with the arrest of 522 persons during the first quarter of the financial year 2022-23. However, only 129 cases and 152 persons were arrested during the same period of last year.
This was known from the quarterly excise review meeting held under the chairmanship of Commissioner of Excise Ashish Kumar Singh on Wednesday, wherein Deputy Commissioner of Excise (CD, Cuttack)/ Headquarter and Superintendent of Excise, Enforcement Cell were attended from different offices.
The objective of holding this meeting is to monitor sustained enforcement and to counter the illicit trafficking of Narcotics in the coming days, officials said.
The Team Excise seized 10017 kg Ganja till June 2022 against the seizure of 6676 kg of ganja during first quarter of last year, thereby registering a growth of 50 per cent. Further, 3540 Grams of Heroin seized this year against 1557.5 Grams last year.
The total approximate value of seizure excise substances has been increased to Rs 48 crore this year from Rs 15 crore last year.
While 6091 persons were arrested on Excise cases till June '21, it has been increased to 10,744 in the same period of 2022.
The seizure of ID liquor and OS liquor has increased by more than 113 per cent and 17 per cent, while seizure of country made liquor increased by 77 per cent till June of 2022-23.
Seizure of beer and bhang increased by 3 per cent and 533 per cent, respectively, said an official.
The State Excise has seized 542 vehicles, which were used for the illegal transportation of the excise substances during the last three month of this year.
This year, the digitization of data of Excise cases of the last ten years is going on with the assistance of OCAC throughout the state to keep record of each and every accused person and to have coordination with the Police Department.
During the meeting, the Excise Commissioner appreciated the performance/ achievement of Excise officers during the first quarter of the financial year (2022-23).
He instructed all Superintendents of Excise & EI EB Units to strengthen & enhance the enforcement measures in this year 2022-23 and to conduct frequent raids against the illegal manufacturing, distributing and sale of ID Liquor/ duplicate IMFL/Non duty paid IMFL/NDPS items in the State.