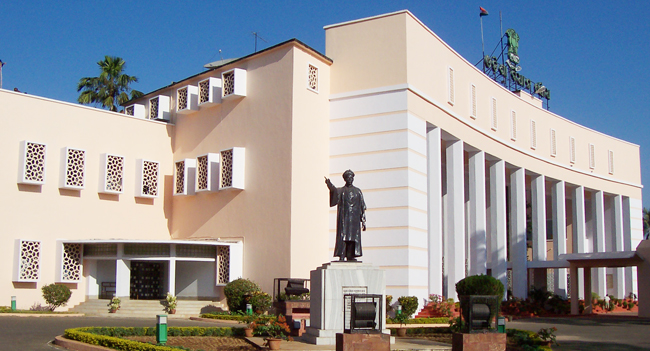 Bhubaneswar: The ongoing protest of primary school teachers continued to disturb State Legislative Assembly proceedings for third day on Wednesday.
The House was adjourned till 4 PM today following a ruckus by Opposition BJP, Congress and CPI(M) members during zero hour.
The question hour was conducted peacefully in the House. During zero hour, Opposition members including Congress Legislature Party Leader Narasingha Mishra, BJP Chief Whip Mohan Majhi, Congress MLA Santosh Singh Saluja and CPI(M) Member Laxman Munda raised the teacher's issue in the House and demanded immediate resolution of their issues.
The Opposition members urged the Speaker BK Arukha to call the Chief Secretary and resolve the issues of the teachers. Munda sat on dharana in the well saying that teachers have blocked his house.
The Opposition BJP and Congress members trooped into the well of the House over the ongoing teachers' protest and shouted slogan against the BJD Government.
Speaker Bikram Keshari Arukha appealed to the Opposition members to go back to their seats, but, the Opposition remained adamant on their demand.
Finding no other solution to bring the situation in order, the Speaker adjourned the House for 15 minutes and called an all-party-meeting. As the meeting lasted for some more time, the House again adjourned for another 10 minutes.
However, the all-party meeting failed to bring normalcy in the House.
Both the BJP and the Congress members targeted the State Government for not looking into the demands of teachers. The Opposition members continued their slogan shouting. In such a scenario, the House was adjourned till 4 PM.
Notably, thousands of primary school teachers from across the state are on an indefinite stir here at the Mahatma Gandhi Marg here since Sunday on their three-point charter of demands which include the abolition of the contractual system, resuming the old pension system and increasing the grade pay while counting their six years of teaching experience.