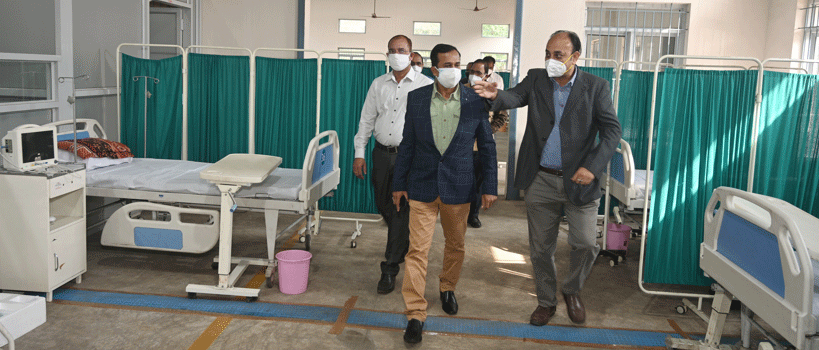 Dhenkanal: Tata Steel located at Meramandali in Dhenkanal district has reopened the temporary 50 bedded Covid-19 hospital at Nava Bharat Ventures Skill Development Centre, Kharagprasad in Odapada block of the district today for the community.
The hospital has 50 beds equipped with oxygen support systems apart from other medical equipment necessary for providing secondary level care to Covid-19 patients.
Dhenkanal District Collector Saroj Kumar Sethi and Chief District Medical Officer (CDMO), Dr Ashok Das visited the hospital today.
Commending Tata Steel Meramandali for re-opening the hospital, Mr.Sethi said, the hospital will add strength to the Covid-19 health care infrastructure of the area helping patients from the local villages and will be of great help to the community.
Four doctors, 15 nurses and 15 housekeeping staff have been appointed to manage the hospital. In making the hospital functional, Tata Steel Meramandali undertook the necessary structural modifications at the site.
Besides, two prefabricated structures were also added to serve as an administration block, chambers for doctors and paramedics, donning and doffing rooms and toilets.
Earlier, during the second wave of the pandemic, the Tata Steel had also started a temporary Covid hospital at Karagprasad Regional Higher Secondary School in Dhenkanal district.
Dhenkanal Sub-Collector, Snigdharani Dhal, Odapada BDO Dasarathi Jena and other senior officials of Tata Steel Meramandali and Nava Bharat Ventures Ltd., were present on this occasion.