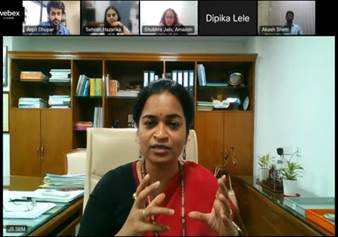 New Delhi: Swachh Bharat Mission-Urban 2.0, under the aegis of the Ministry of Housing and Urban Affairs, on 29 July, 2022 organized the fourth edition of SwachhTalks, the national peer learning webinar series on the topic of 'Managing Plastic Waste'. The aim of this SwachhTalks episode was to nudge discussions around the need to effectively manage plastic waste to achieve the Mission's goal of creating 'Garbage Free Cities'.
While speaking to the nation through his 'Mann Ki Baat' series, Prime Minister Narendra Modi has repeatedly emphasized on the need for citizens to come together to collectively combat plastic pollution and adopt Swachhata as a way of life.
Roopa Mishra, Joint Secretary and National Mission Director, Swachh Bharat Mission Urban, Ministry of Housing and Urban Affairs highlighted India's role as an emerging global leader in the field of sustainable sanitation and waste management and contextualized the progress made across the cities.
She said, "India is crucially emerging as a strong voice in climate & environmental matters. The PM's recently launched Lifestyle for Environment Movement (LiFE) is another landmark campaign that advocates for the same.  The LiFE Movement is all about making the right choices and this is a guiding philosophy of the Mission as well. The ban on Single Use Plastics (SUP) is a landmark step in adopting eco-friendly lifestyles that are in harmony with nature. We are also witnessing unprecedented mass movements and jan andolan to create awareness regarding the same. This is just the beginning."