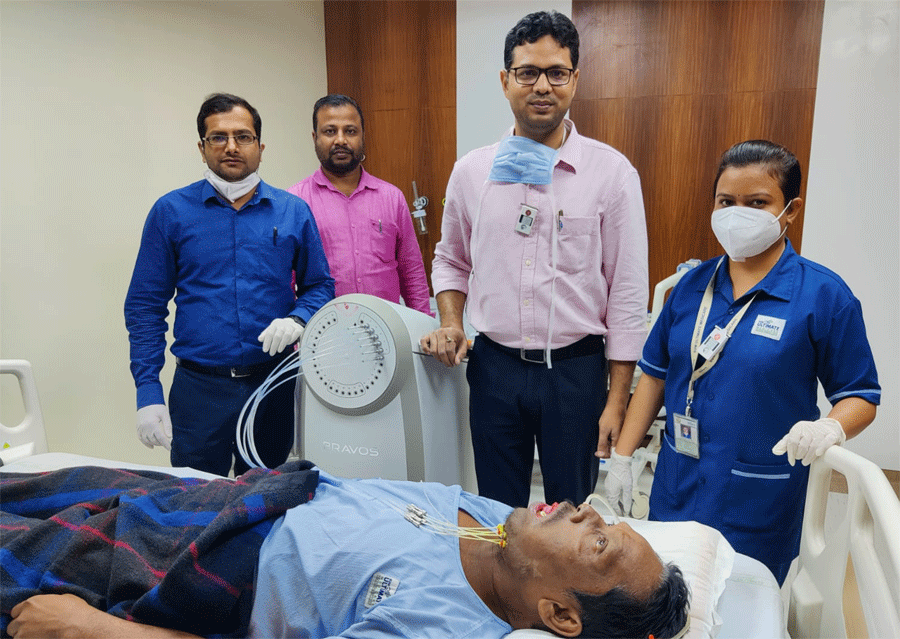 Bhubaneswar: Oncologists at the SUM Ultimate Medicare (SUMUM) here have deployed bravos brachytherapy, a type of radiation therapy, with commendable success in treating a man suffering from tongue cancer.
The treatment involves placement of a sealed radiation source inside the targeted area.
Raghunath Mohanty (45) had come to the hospital for treatment of an ulcer on his tongue, found to be cancerous, after doctors in another hospital had advised for partial or complete removal of the tongue. It would have meant loss of speech for him for his entire life.
Seeking a second opinion, Mr.Mohanty came to SUMUM where he was admitted for treatment under the care of the Radiation Oncologist, Dr. Chira Ranjan Khadanga.
"Triple endoscopic and PET-CECT tests confirmed that the cancer was in preliminary stage. Members of the hospital's Multidisciplinary Tumour Board recommended that the patient should undergo the latest bravos brachytherapy treatment," Dr. Khadanga said.
A per-cutaneous catheter implant was placed for sometime on the left side of patient's neck under anesthesia which contained high radiation iridium isotope directly impacting the ulcer. The patient was discharged soon after.
SUMUM is the first hospital in South East Asia to procure bravos brachytherapy equipment which has a high success rate, he said.
Tests conducted on the patient after about two months as also MRI has revealed that there was no trace of cancer and he was able to live a normal life. He was able to take food and liquid normally, Dr. Khadanga said.